Winter is the perfect time to snuggle in to bed, or by the fire and just read because you can. Who wants to go out and bother with the cold, battle with the wind or just get drenched? Not me. Winter is not a happy time for me. It makes me sad sad sad. Staying inside in the warmth and reading though makes me content. Content as anything. 
I thought I would share some perfect winter/Christmas books for you! I mean who doesn't need their TBR to be expanded by a book or 2?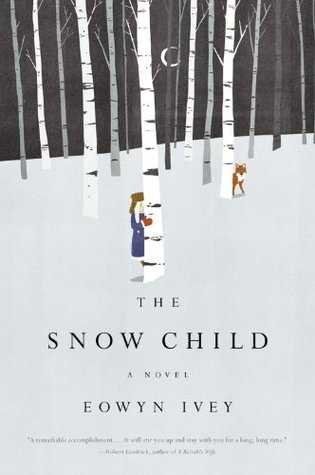 The Snow Child – Eowyn Ivey 
"Alaska, the 1920s. Jack and Mabel have staked everything on a fresh start in a remote homestead, but the wilderness is a stark place, and Mabel is haunted by the baby she lost many years before. When a little girl appears mysteriously on their land, each is filled with wonder, but also foreboding: is she what she seems, and can they find room in their hearts for her?"

The Twelve Days of Dash and Lily – Rachel Cohn/David Levithan
"Dash and Lily have been dating for nearly a year, but when Lily's beloved grandfather falls ill, the repercussions take their toll on everyone. Even though they are still together, somehow the magic has gone out of their relationship and it's clear that Lily has fallen out of love with life.
Action must be taken! Dash teams up with Lily's brother and a host of their friends, who have just twelve days to get Lily's groove back in time for Christmas."
The Book Thief – Markuz Zusak
"HERE IS A SMALL FACT – YOU ARE GOING TO DIE
1939. Nazi Germany. The country is holding its breath. Death has never been busier.
Liesel, a nine-year-old girl, is living with a foster family on Himmel Street. Her parents have been taken away to a concentration camp. Liesel steals books. This is her story and the story of the inhabitants of her street when the bombs begin to fall.
SOME IMPORTANT INFORMATION – THIS NOVEL IS NARRATED BY DEATH
It's a small story, about:
a girl
an accordionist
some fanatical Germans
a Jewish fist fighter
and quite a lot of thievery.
ANOTHER THING YOU SHOULD KNOW – DEATH WILL VISIT THE BOOK THIEF THREE TIMES"
Let It Snow – John Green, Maureen Johnson and Lauren Myracle
"Three wonderful holiday romances by three of America's bestselling authors, including John Green – author of the multi-million bestseller The Fault in Our Stars.
An ill-timed storm on Christmas Eve buries the residents of Gracetown under multiple feet of snow and causes quite a bit of chaos. One brave soul ventures out into the storm from her stranded train and sets off a chain of events that will change quite a few lives. Over the next three days one girl takes a risky shortcut with an adorable stranger, three friends set out to win a race to the Waffle House (and the hash brown spoils), and the fate of a teacup pig falls into the hands of a lovesick barista.
A trio of today's bestselling authors – John Green, Maureen Johnson, and Lauren Myracle – brings all the magic of holidays to life in three hilarious and charming interconnected tales of love, romance, and kisses that will steal your breath away."
The Lion, The Witch and The Wardrobe – C.S.Lewis
"Four adventurous siblings―Peter, Susan, Edmund, and Lucy Pevensie― step through a wardrobe door and into the land of Narnia, a land frozen in eternal winter and enslaved by the power of the White Witch. But when almost all hope is lost, the return of the Great Lion, Aslan, signals a great change . . . and a great sacrifice."

Stick Man – Julia Donaldson and Axel Scheffler
"Stick Man lives in the family tree With his Stick Lady Love and their stick children three." But it's dangerous being a Stick Man. A dog wants to play with him, a swan builds her nest with him. He even ends up on a fire! Will he ever get back to the family tree?"
The Jolly Christmas Postman – Janet and Allan Ahlberg
"It's Christmas Eve and the JOLLY POSTMAN is delivering greetings to various fairy-tale characters – there's a card for Baby Bear, a game appropriately called 'Beware' for Red Riding Hood from Mr Wolf, a get-well jigsaw for hospitalised Humpty Dumpty and three more surprise envelopes containing letters, cards, etc. Everyone's favourite postman keeps on peddling his bicycle up hill and down dale . . . and into everybody's hearts."
There you go! A little something for everyone! I love a festive winter read!
S x