So here we come to that part of the year when I get to FINALLY think about books that are being released next year that I can look forward to and MY WORD there are SO SO SO MANY. Some that I've been waiting MONTHS for, some that have just recently come into my mind but I thought I would make a blog post to tell you some of the books I'm most excited about! 
I am lucky enough to get to see and read some of these on Net Galley already, so I will review them but I can't to get my hands on them PHYSICALLY. These will all be YA, there is a MG post to come!
My MOST anticipated book… because I've been chasing Mel FOREVER.
Scarecrow Queen – Melinda Salisbury (#queenmel)
"The final battle is coming…As the Sleeping Prince tightens his hold on Lormere and Tregellan, the net closes in on the ragged band of rebels trying desperately to defeat him. Twylla and Errin are separated, isolated, and running out of time. The final battle is coming, and Aurek will stop at nothing to keep the throne forever.."
I CAN NOT WAIT. I can't wait to find out what happens to Twylla. OHMYHOLYLORD.#isittimeyet
Traitor To The Throne – Alwyn Hamilton
"This is not about blood or love. This is about treason.

Nearly a year has passed since Amani and the rebels won their epic battle at Fahali. Amani has come into both her powers and her reputation as the Blue-Eyed Bandit, and the Rebel Prince's message has spread across the desert – and some might say out of contr
ol. But when a surprise encounter turns into a brutal kidnapping, Amani finds herself betrayed in the cruellest manner possible.
Stripped of her powers and her identity, and torn from the man she loves, Amani must return to her desert-girl's instinct for survival. For the Sultan's palace is a dangerous one, and the harem is a viper's nest of suspicion, fear and intrigue. Just the right place for a spy to thrive… But spying is a dangerous game, and when ghosts from Amani's past emerge to haunt her, she begins to wonder if she can trust her own treacherous heart."
Wing Jones – Katherine Webber
"A sweeping story about love and family from an exceptional new voice in YA. With a grandmother from China and another from Ghana, fifteen-year-old Wing Jones is often caught between worlds. But when tragedy strikes, Wing discovers a talent for running she never knew she had. Wing's speed could bring her family everything it needs. It could also stop Wing getting the one thing she wants."
Caraval – Stephanie Garber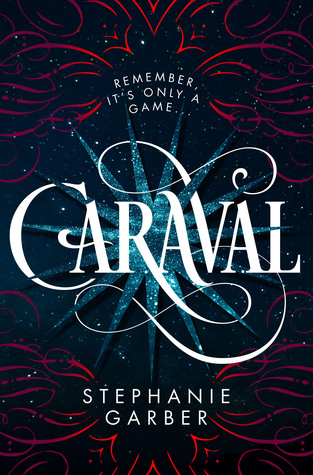 " Welcome to Caraval, where nothing is quite what it seems.
Scarlett has never left the tiny isle of Trisda, pining from afar for the wonder of Caraval, a once-a-year week-long performance where the audience participates in the show.
Caraval is Magic. Mystery. Adventure. And for Scarlett and her beloved sister Tella it represents freedom and an escape from their ruthless, abusive father.
When the sisters' long-awaited invitations to Caraval finally arrive, it seems their dreams have come true. But no sooner have they arrived than Tella vanishes, kidnapped by the show's mastermind organiser, Legend.
Scarlett has been told that everything that happens during Caraval is only an elaborate performance. But nonetheless she quickly becomes enmeshed in a dangerous game of love, magic and heartbreak. And real or not, she must find Tella before the game is over, and her sister disappears forever."
Gilded Cage – Vic James
 "A modern Britain
An age-old cruelty
Britain's magically skilled aristocracy compels all commoners to serve them for ten years – and now it's the Hadleys' turn. Abi Hadley is assigned to England's most ruthless noble family. The secrets she uncovers could win her freedom – or break her heart. Her brother Luke is enslaved in a brutal factory town, where new friends' ideals might cost him everything.
Then while the elite vie for power, a young aristocrat plots to remake the world with his dark gifts. As Britain moves from anger to defiance, all three must take sides. And the consequences of their choices will change everything, forever."
A Quiet Kind of Thunder – Sara Barnard
 "Steffi doesn't talk, but she has so much to say.
Rhys can't hear, but he can listen.
Their love isn't a lightning strike, it's the rumbling roll of thunder.
Steffi has been a selective mute for most of her life – she's been silent for so long that she feels completely invisible. But Rhys, the new boy at school, sees her. He's deaf, and her knowledge of basic sign language means that she's assigned to look after him. To Rhys it doesn't matter that Steffi doesn't talk and, as they find ways to communicate, Steffi finds that she does have a voice, and that she's falling in love with the one person who makes her feel brave enough to use it."
I have had the pleasure of reading and reviewing this! You'll find my review on my blog… BOOKBLOG: Sara Barnard
There are SO MANY more I can't wait to see and touch and read and share with you all!
Which 2017 releases are you most excited for? Let me know in the comments or on twitter (@eenalol)
S x