Haha, no. Not a sporting super Saturday. A bookish one! 
A few weekeneds ago, I had a whole day to myself (my Saturdays are usually spent with my mam, but my mam was away with her sisters) so naturally, I spent the day reading! I figured I would write 1 blog post with quick reviews in!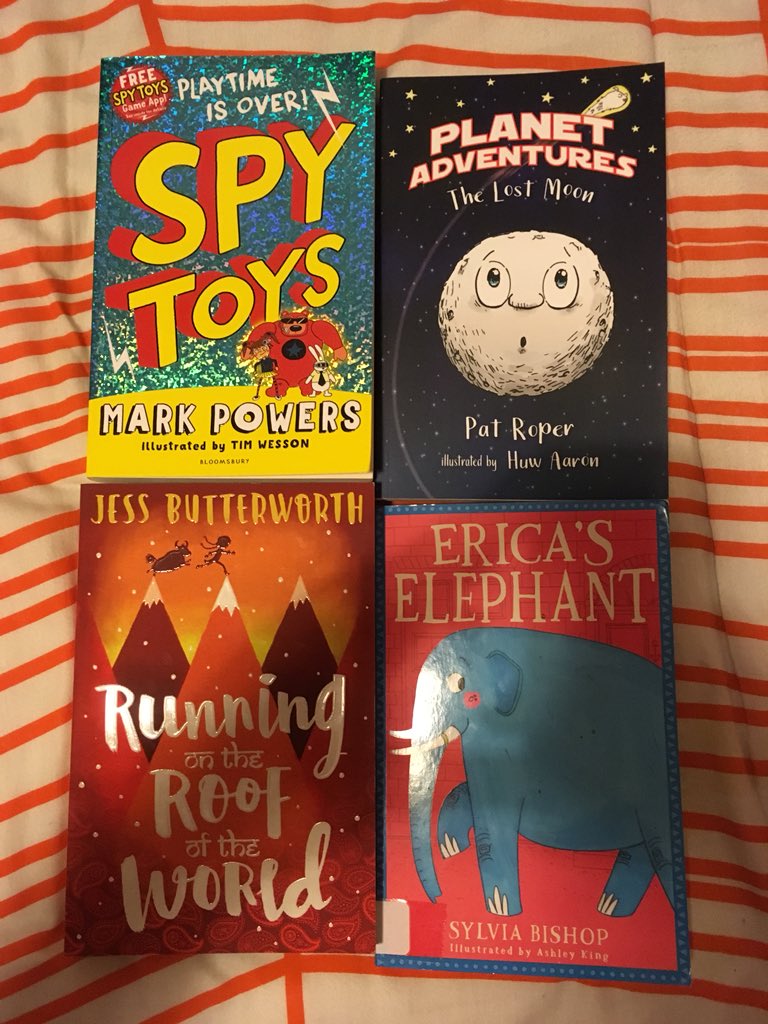 (There's a book missing! Harper and the Scarlet Umbrella was also read that day!)

So, lets get on with the reviews: (Starting from the top!)
Spy Toys – Mark Powers
"The world's leading toy manufacturer makes playthings for the rich and famous, and every toy they create contains a tiny computerised brain and a unique personality. These toys are seriously awesome! But every so often there's a faulty toy … Dan is a Snugliffic Cuddlestar bear – he should be perfect for hugging. But because of a faulty chip, Dan is so strong he could crush a car. Thrown on to the rejects pile, he meets Arabella, a Loadsasmiles Sunshine Doll, who has a very short temper and is absolutely NOT good with children. Soon Dan, Arabella and Flax (a custom-made police robot rabbit gone AWOL) are recruited by Auntie Roz, the 'M' of the toy world, and together they make up THE SPY TOYS. Their first mission: to protect the prime minister's eight-year-old son from being kidnapped …"
My lovely friend Kelly sent me this book, following her stop on the blog tour! This book is a great read: it's pacey and funny! It would make a great addition to any library – I think there's 2 or 3 books. It's a great bit of escapism, with a bit of silliness and fun thrown in for good luck!
Planet Adventures: The Lost Moon – Pat Roper
"When a lost moon crashes into him, Earth has a big decision to make. Will he travel across the Solar System for the first time to help his new friend get back home, or will be stay in his comfy orbit away from all the dangers in space? Join a galactic cast of characters for the adventure of the light year!"
The lovely people over at Burst Publishing sent me 2 copies of this – one for me and one for school, and I am happy to tell you that both copies are now in the school library. This book would be great for children who love space. It is filled with facts! It's a super quick read. A good little read filled with teamwork, friendship and science.
Running on the Roof of the World – Jess Butterworth
"Join 12-year-old Tash and her best friend Sam in a story of adventure, survival and hope, set in the vivid Himalayan landscape of Tibet and India. Filled with friendship, love and courage, this young girl's thrilling journey to save her parents is an ideal read for children aged 9-12. There are two words that are banned in Tibet. Two words that can get you locked in prison without a second thought. I watch the soldiers tramping away and call the words after them. 'Dalai Lama.' Tash has to follow many rules to survive in Tibet, a country occupied by Chinese soldiers. But when a man sets himself on fire in protest and soldiers seize Tash's parents, she and her best friend Sam must break the rules. They are determined to escape Tibet – and seek the help of the Dalai Lama himself in India. And so, with a backpack of Tash's father's mysterious papers and two trusty yaks by their side, their extraordinary journey across the mountains begins."
I have a FULL review of this coming up in a week or so, BUT I wanted to include it here since it was part of Super Saturday. This book is so many levels of brilliant. I had seen it all over twitter so needed to get my hands on it! Keep your eyes peeled for my full review!
Erica's Elephant – Sylvia Bishop
"When Erica Perkins wakes up on the morning of her tenth birthday, the last thing she expects is to find a very confused elephant sitting on her doorstep. So begins an unlikely friendship. But can a small girl and a rather large elephant learn to live together in a tiny terraced house? And when the dastardly owner of the local zoo plots to steal the elephant, will Erica be able to outsmart him?"
Having read 'The Bookshop Girl' by Sylvia Bishop (BOOKBLOG: Sylvia Bishop), I needed to get my hands on more, so when I saw this in my school library I borrowed it and devoured it. It's such fun, such a gorgeous read. It's just so lovely. And the illustrations are PERFECT. If you have a little bookworm in your life, you need to get your hands on this!
Harper and the Scarlet Umbrella – Cerrie Burnell
"Harper lives in the City of Clouds with her Great Aunt Sassy and her beloved cat Midnight. When Midnight goes missing – together with all the cats of the neighbourhood – Harper realises that only her magical scarlet umbrella can help her find him… When Harper steps out with the umbrella in her hand, she is carried up into the sky on a series of amazing adventures. And Midnight isn't all she finds when she stumbles upon the Midnight Orchestra and its wild conductor…"
This is another one of those lovely, quick reads. It's filled with magic, cats and unsuspecting friendships. I really loved it. I have already purchased the rest of books in the series, and can't wait to read them! There are some brilliant characters in this book. 
So there we go! That was my Super Saturday! Filled with brilliantly fun MG books.
Whats the most books you've read in a day?
Have you read any of these books?
Do you have any funny reading habits?
Talk to me on twitter (@eenalol) or leave me a comment! I would love to know about your reading habits/binges!
S x