IT'S BEAUTY AND THE BEAST DAY PEOPLE. THIS IS NOT A DRILL. IT IS HAPPENING. I AM EXCITED. I HAVE BEEN WAITING FOR THIS FOR A LONG TIME. (I was apprehensive at first, but now that it is time… I AM THE MOST EXCITED).
Hello, my name is Steph and I love Beauty and the Beast. I do not remember a time where Beauty and the Beast wasn't my favourite Disney film. I do not wish to think of a time when Beauty and the Beast will not be my favourite Disney film. I am going to outline now a few reasons why Beauty and the Beast SHOULD be one of your favourite Beauty and the Beast films. Lots of love and all that, x
So here are the reasons why I love the original (I am sure I will have feelings about the new version, and will share them at same point!)…
Belle: she's bookish, she's smart, she stands up for herself against Gaston (who I have strange feelings about… more of that in a minute) and she loves her dad. She locks herself up in Beast's prison for him! She's incredible. She sees people for their heart, not for what they look like. She's curious, she's inquisitive. She's BEAUTIFUL too. (I mean duh, Belle is French for beautiful after all).
Beast: yeah he's scary, he's not particularly friendly and he was mean to the witch at the start of the story (which turns him in to a beast in the first place) but watching him change from a hardened, mean, shut off beast to an open, loving, accepting man at the end is wonderful. Look at his daft little face man. He provides many little laughs during the film. The bit with the birds? The bit with the hair? Yep. I like the beast. He's lovely. And he fights for Belle – he lets her leave when her dad is ill. He physically fights against Gaston. Good old Adam (for those of you who didn't know… he's Prince Adam)
Gaston: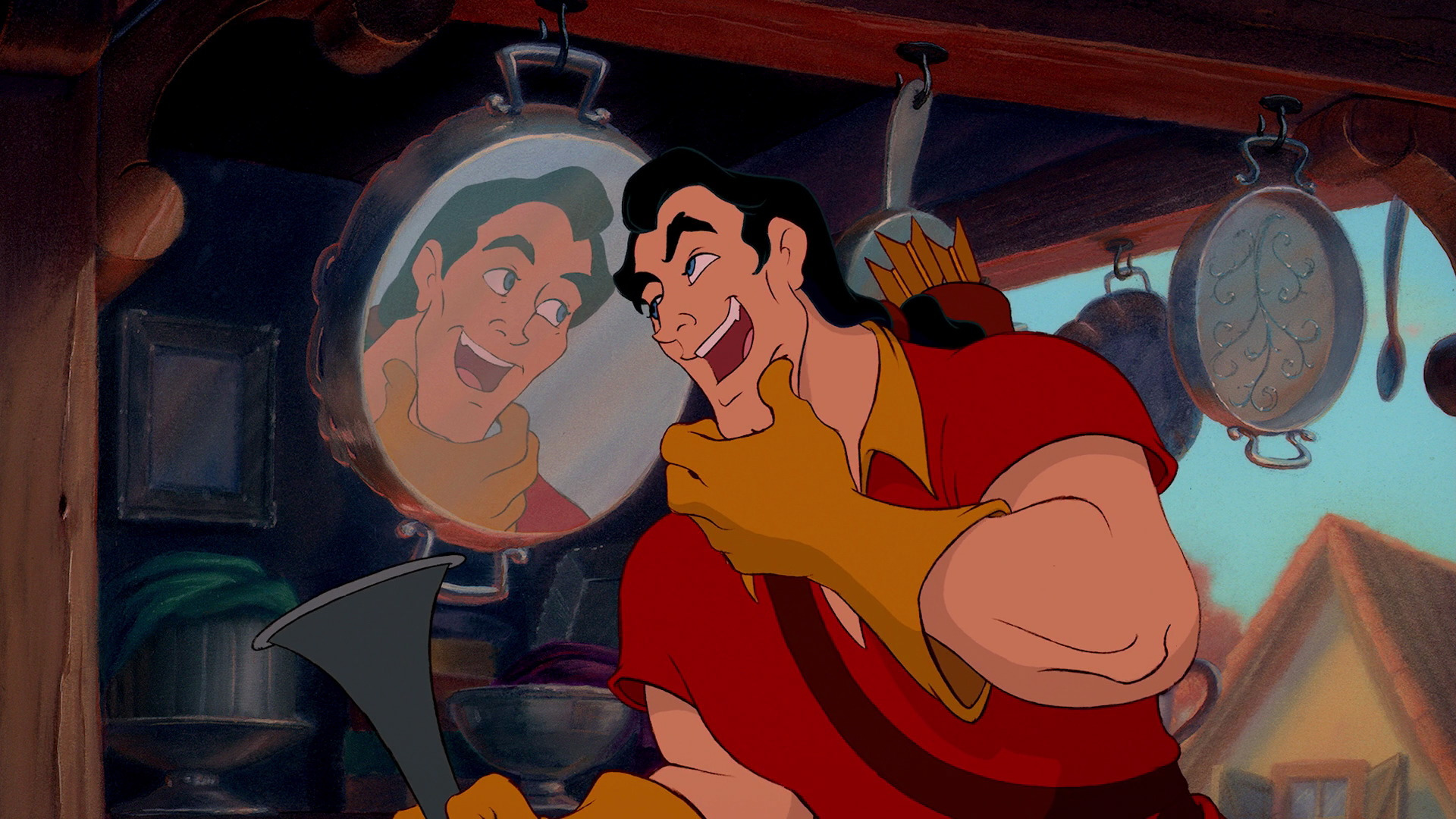 I know, I'm surprised he's here too. He's cocky, smarmy and not the kind of fella that I would want to be associated with, but he's necessary. He's malicious, sly and sneaky. He's not the quintessential Disney villain, but he's certainly one of the most wicked. Plus 'The Mob Song' and 'Gaston' are particular exceptional songs. 
Supporting characters: there are SO MANY characters I love in this story. Mrs Potts, Chip, Cogsworth and Lumiere are particular stand outs for me though. I like Lumiere's impression he's suave and sophisticated. I like Cogsworth's scepticism, he's the voice of reason. Mrs Potts is the sheer romantic of the group. I love her. Chip and his gorgeous innocence make my heart so happy. 
Soundtrack: now here I could just list ALL THE SONGS because the soundtrack to this film is exceptional but I'll just choose 3. (HELP HOW DO I CHOOSE 3?)
'Belle' – perfect Belle song. This tells the story of her little town and how she wants more. I know every. single. word. I sing it OFTEN when I'm pretending I am Belle. This song highlights how different Belle is from her townspeople but she remains kind. And it includes a bookshop… SOLD.
'Gaston' – perfect song for Gaston. Full of his own self importance and how much the ladies are in love with him… except Belle. I can't help but sing along to this all the time!
'Mob Song' – I think this is one of the most underrated songs in the whole soundtrack. It shows Gaston's menace and macchiavellian ways perfectly. How manipulative he is. How much the people worship him by following him. How Belle tries to fight for her Beast. The Beast just giving up at the end because Belle's gone. How people change and some are just mean.
That yellow dress:
Ok, so as you've gleaned I LOVE everything about Beauty and the Beast and I could mention so much more, but I'll leave it there! 
Do you agree? Do you love Beauty and the Beast? What are your favourite soundtrack songs? I would love to hear! I love talking Belle and Beast! Let me know in the comments below or on twitter @eenalol.
S x