The Thief who Sang Storms: an incredible story of honesty, friendship, bravery and community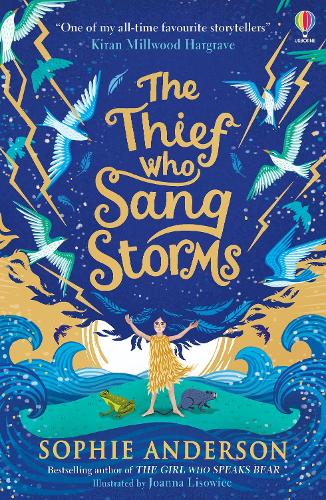 The Island of Morovia is shaped like a broken heart. The humans live on one side of the island, and the alkonosts – the bird-people – live on the other. But it wasn't always this way…
Linnet wishes she could sing magic, like her father, Nightingale – and bring the two sides of her island together again. For her land has been divided by a terrible tragedy, and Linnet has been banished with her father to the deepest swamps, leaving behind her best friends, Hero and Silver. So when her father is captured, Linnet must be brave and embark on a treacherous journey. Through alligator pools and sinking sands, she finds new friends. Yet without her singing magic, Linnet discovers something even more powerful. Something that could save her father, and heal the broken heart of her island once more…
For anyone who is new around here, I am a MASSIVE fan of Sophie Anderson books. She writes in such an incredible way. Her stories never fail to blow me away… and The Thief is no different!
I was so incredibly lucky to be sent a proof of The Thief who Sang Storms from the gorgeous folk of Usborne, and I knew as soon as it arrived that I HAD to dive in. I started 2022 reading this book and I am so so glad I did.
The Thief tells the story of Linnet, a young girl who lives in a world divided. The alkonosts and the humans are no longer living in peace. The humans have pushed away the alkonosts because of fear. The alkonosts (the magical people) are sent out of their homes and made to live in secret because of a tragedy that occurred. When her father is captured, Linnet must go on a journey through her world to get him, and so many others like him back. She must learn to trust; she has to learn that sometimes things are not as they seem; she has to believe that there is good in the world. She knows that unity is the way forward for all of the people, but she knows that she needs help to do it.
Linnet's story blew me away. You root for her straight away. You feel her pain. You know her story and you want her to do well. You see her life – through flashbacks (which I adored) you learn about the people who matter and who have had an impact on Linnet's life. You read about her life, her friends, her troubles and I just fell for her totally. Her relationship with her father is an incredibly touching one.
There was more than one time when I was like WHAT IS GOING ON?! There were moments of sheer shock; there were moments of absolute heartbreak. I went through it all reading this (just like I always do with Sophie's books). I cried for a lot of the ending of this story.
There's so many incredible messages in this story about unity, the importance of kindness, believing in your own power and community. Grief is an ongoing theme through this story and the descriptions of grief throughout this made my heart so incredibly sad. Dad is going through it all and watching his grief take over him just broke me at times.
Seeing a very familiar face made me so incredibly happy. I love that Sophie writes her other characters into her stories. It feels like coming home.
Honestly, I think the world is going to love exploring Linnet's world: her island, her people, her friends, her story.
My goodreads review:
I've just finished this and honestly, Sophie continues to blow me away with stories of bravery, friendship, community and honesty. Linnet's story blew me away – a nation divided and a young girl who pledges to unite them. There's so many incredible messages in this about unity, being kind and believing in your own power. Cried for the last 40 pages I'd say! Just exceptional.
The Thief who Sang Storms is out 31st March. You can preorder it now at all of the preordering places!
A massive thank you to Usborne for sending me a proof copy of this incredible story. I just adored it!
S x