Good morning!
I have an utter joy for you all today!
To celebrate the release of her brand new book, When Shadows Fall, Sita Brahmachari is here today to talk to you all about her ideal dinner party: guests AND food!!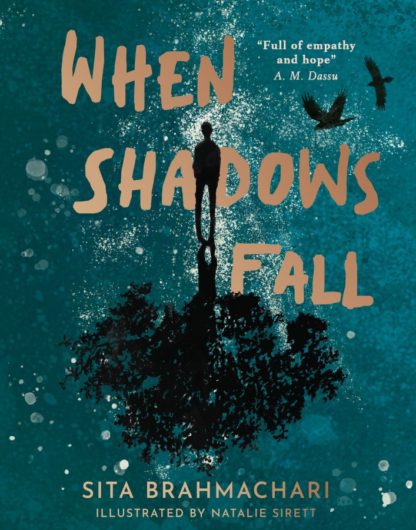 Kai, Orla and Zak grew up together, their days spent on the patch of wilderness in between their homes, a small green space in a sprawling grey city. Music, laughter and friendship bind them together and they have big plans for their future – until Kai's family suffers a huge loss. Trying to cope with his own grief, as well as watching it tear his family apart, Kai is drawn into a new and more dangerous crowd, until his dreams for the future are a distant memory. Excluded from school and retreating from his loved ones, it seems as though his path is set, his story foretold. Orla, Zak and new classmate Om are determined to help him find his way back. But are they too late?
***
Who would be at your dream dinner party – and why?
Faith Ringgold the wonderful artist whose work I identify strongly with.
Rabindranath Tagore – strangely our local library is the Tagorian centre in London. I would love to hear him read some of his poems and hear him philosophing… perhaps under a tree after dinner!
Maya Angelou – who opened my eyes to the power of storytelling, activism and finding a voice. I would have loved to meet her.
Oliver, Reginald Tambo – because his statue is in our park ( the Rec is now The O.R Tambo Nature Reserve) and I walk by him most days and would love to have a chat with him about his work in the ANC, being welcomed as a refugee in Haringey and how he would see where we are now.
Frida Kahlo. I wonder if she would wear flowers.
My Dad – Dr Amal Krishna Brahmachari because he was a wonderful man and would have loved to meet these people too + I would never have become a storyteller without his voice, encouragement and insight.
My Mum, Freda – because … what a reunion of love, community, friendship, great humans and family that would be.
And what would you serve to your guests?
Artichokes… a big bowl to eat the leaves, dip in olive oil, salt and pepper while we chat and shed leaf-layers!
Vegetable curry, home made Naan, dahl, salads of many kinds
Pistachio Oat Kulfi (like ice cream) in Pomegranate cases! (For Frida!)
***
What an absolute delight!
I'd love to know who would be in your ideal dinner party!
Remember to check out the rest of the blog tour (details below). A massive thanks to Sita for taking the time to write this guest post!
When Shadows Fall is out now with Little Tiger books! Go get yourself a copy of this incredible book!
S x