Morning everyone!
Last week, I posted the first in a series of posts about books that my kids are loving – with a focus primarily on graphic novels.
I've been on a graphic novel journey over the past year and a half and have well and truly fallen for them. I'll be honest and say that before I actually got my hands on some and read them, I wasn't entirely sure about them… but I am a TOTAL convert now!
Again, these aren't in any real order (and if you'd like to see the other series we love post: check it out here)
***
Mr Wolf's Class by Aron Nels Steinke
These gorgeous graphic novels follow Mr Wolf and his class (stating the obvious here). As a teacher, I empathise a lot with Mr Wolf and some of the things he has to go through with his glorious little gang. I love that there's so much character and so much fun in these books – and there's certainly a lot of fun in school happening! We can't wait for the next one to come out. I'd say, as I said last week with InvestiGators, this is the series I get asked some of the most about (when's the next one out? who has the next one? why aren't there more?)
My kids love these because I'd say they're on the more readable/easier side of the graphic novels we have in class. I'd say they're perfect for younger than Y6, but I'm not going to stop my class reading them because they're fun and they're inspiring some of my very own comic writers!
Evil Emperor Penguin by Laura Ellen Anderson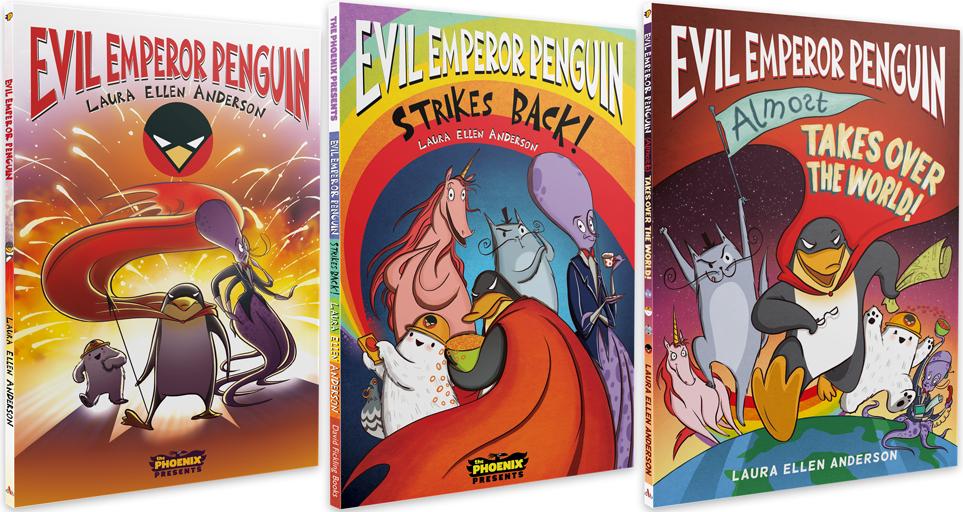 I've just recently got into these – I'd seen them about on the internet but found it hard to get my hands on them second hand (I'm yet to actually get my hands on the second one… I fear I may need to shell out for a new copy!).
Yes that is Laura Ellen Anderson of Amelia Fang fame!
These graphic novels are hilarious and shambolic and wonderful. EEP tries to take over the world in weird and wonderful ways. He has a gorgeous sidekick called Eugene and a brilliant octopus friend (Number 8) who help him create all kinds of weird and wonderful gadgets to take over the world.
These ones are slightly different to other graphic novels as they're more comic style, but I think they're very funny and EEP has lots of fans in my classroom!
Goosebumps Graphix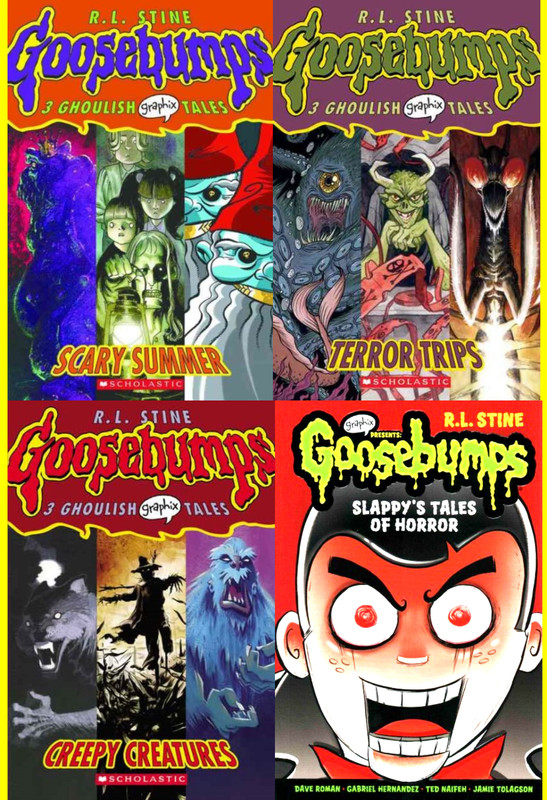 I've got a class this year who love a scary story (they're forever telling me the stories in the library aren't scary enough), so I decided to track down these graphic novel versions of Goosebumps stories and they've gone down an absolute treat!
These are obviously just graphic novel retellings of some of the Goosebumps books. There's 3 tales in each one and each tale is illustrated by a different artist (this was a very jarring thing for some of my kids, but I explained why and they thought it was cool that it was a collaborative thing). If you're looking for something a bit scarier, then these might be what you're after!
***
This was just another 3 of the series that my kids are loving at the moment! I'll be back with another post soon to share the other graphic novels they love – there may be more stand alones in there as I think I might have got through their favourite series now!
Let me know if you have any recommendations of graphic novels – we are loving them so much!
S x