Happy Here: full of sheer delights – an anthology for everyone!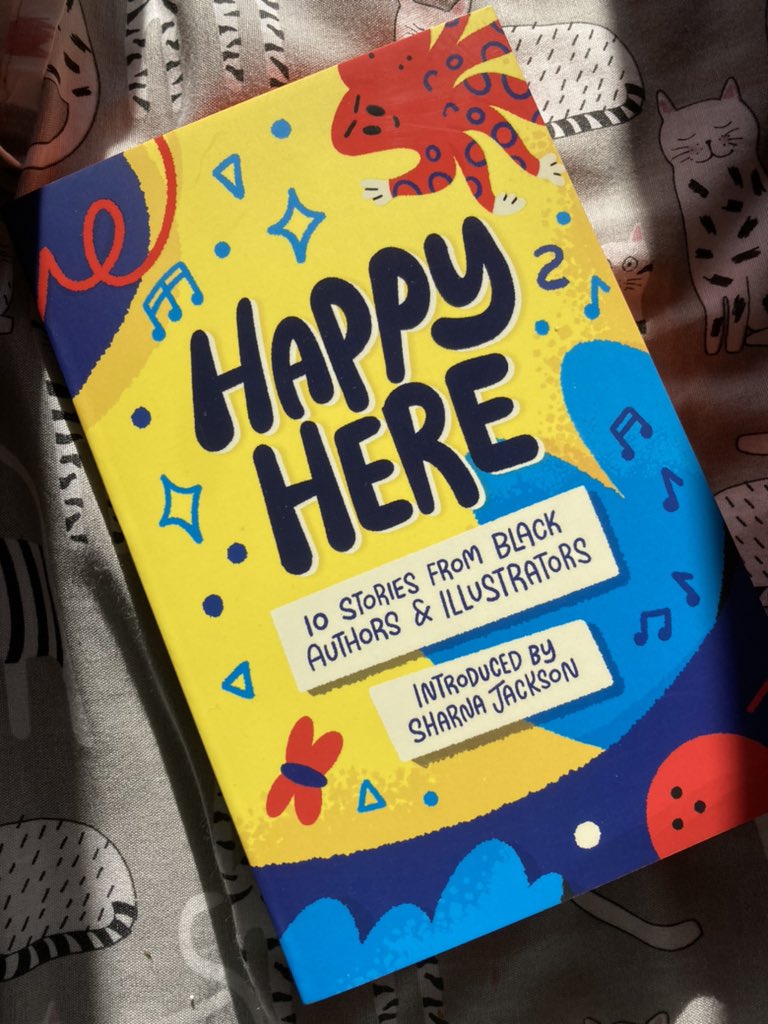 With an introduction from bestselling author Sharna Jackson, Happy Here features stories and poems by 10 Black British authors for readers aged 7+. Exploring themes of joy, home and family through a wide range of genres and styles, each author has been paired with a different illustrator to spotlight Black British artistic talent. With stories by Dean Atta, Joseph Coelho, Kereen Getten, Patrice Lawrence, Theresa Lola, E.L. Norry, Jasmine Richards, Alexandra Sheppard, Yomi Sode, and Clare Weze.
I was incredibly lucky to be sent a copy of Happy Here from the brilliant Knights Of recently and I raced through it! This book is a brilliant anthology with stories of all kinds that will appeal to so many people! I decided to break down some of the stories in the book to give you a very short snippet of my thoughts of it!
A House Like No Other – Alexandra Sheppard
This is a gorgeous story which has some wonderful messages about being yourself and believing in yourself! There's some absolutely wonderful characters in this story and I wanted to hug them all! I absolutely adored Izzy's auntie in particular. There's a bit of magic in this, and you all know that's my absolutely jam. It made me cry too!
Amelia St Clair and the Long Armed Killer – Joseph Coelho
This one was a total departure from the first story (which I guess is the absolute beauty of anthologies: the stories aren't connected). This one is a murder mystery which takes place on a cruise ship. Throw in a mysterious scientist, a killer octopus and some kids who are determined and you've got an utter winner! I loved that this was all about facing your fears and how kids can absolutely save the day!
Where Is Home – Kereen Getten
This story was, for me, one of the ones that I think a lot of kids will see themselves in. There's a big talk in this one about feeling like you have no home because of parents who have split up. It's the story of a dad, his girls and how he thinks he's doing the best for them, when all they want is his time. The messages about split up/divorced parents in this was great to read – I really loved the exploration of how all of the characters felt about the situation.
You're the Boss – E. L. Norry
This one took me a little minute to clock – it's a choose your own adventure (and I will ashamedly admit that I read about half the thing before realising that haha) Who doesn't love a choose your own adventure book? This is a story about starting secondary school and the weird things that were happening in the school. There's some brilliantly wild adventures in here and I loved that there were different possibilities… I definitely lost a few times!
Once – Clare Weze
This story had a gorgeous thread of friendship running through it. The two girls in this are both very different, but you see how their friendship works because of it. I loved the theme of learning to fly in this – that's something that takes a whole load of trust and that's one thing we need in friendships. It's not every day you can do the impossible! Friendship brings with it a whole load of things thrown up in this story: fun, doing the impossible, worry, trust and love.
Asher is a Rockstar – Dean Atta
This is the other story told in verse in the story and I think anthologies like this is a brilliant way to introduce young children to verse novels. This is a story about a group of children who are in a church band. This is full of kindness and friendship. There's brilliant rep in this story – one of the characters is trans and I didn't see it coming, so it kind of floored me! I loved the celebration of church life and community spirit that was portrayed in this (because church + LGBT folk isn't always the steadiest of relationships). I'd love to play the saxophone too!
As I said, that's just a few of the stories in the story, and I could've talked about the others too! I loved reading this and it is one of those that you can pick up and read one story, then put it down and pick it up again (although obviously, I didn't ha!)
Thank you so much to Knights Of for sending me a copy of this! I can't wait to put it in my class library!
Check out Happy Here – out now!
Can you recommend me other anthologies for kids?
S x