Hello again! Just me back with more tag goodness! I'm loving the tag lifestyle here.
I don't remember where I saw this tag, but I've had the notes about thgis tag in my blogging notebook for months so I fitured I would get round to posting it finally! This is the 'Totally Should Have' tag, where I weigh in on books that totally should have… something or other!
1. Totally should've gotten a sequel
Hmmm… Simon vs the HomoSapiens Agenda. To be fair, I just want a sequel of Simon and Blue goodness because my word I ship that HARD.
2. Totally should've had a spin off series
Floored! I would've loved to see more about the lives of the crew, especially Hugo (despite the fact I thought he was a dick ha!) or Kaitlyn (cause she was an absolute darling).
3. An author who totally should write more books
Oooooooooooooh, interesting question! Emery Lord would be one of my candidates! Most of the authors who I think should write more books are currently writing more books, so I don't know that I can nominate them.
(If you're reading though Barnard, Salisbury, Evans, Hargrave et al… I mean you lot!)
4. A character who totally should've ended up with someone else
I have NO idea for an answer for this question. As a serial shipper, this is something I feel strongly about. Let me get back to you!
5. Totally should've ended differently
The ending of Thunderhead BAFFLED me. I still loved it, but I just didn't get it. I'm very much looking forward to the third book… but yeah, BAFFLING.
6. Totally should've had a movie franchise
I stand firm that Six of Crows deserves a movie or 3.
7. Totally should've had a TV show
The Extinction Trials by S.M.Wilson would make a great TV series in my opinion.
8. Totally should've had only one point of view
Again, this is one where I'm torn because I LOVE multiple perspective books. I don't think I've read one that I didn't like the other perspective. Some books have TOO MANY perspectives, which BAFFLES me to no end.
9. Totally should have a cover change
ANY COVER THAT HAS A PERSON ON THE FRONT. Not an illustration, but an ACTUAL person. Anyone who knows and has ever been book shopping with me will know that this is very much my least favourite thing about covers.
10. Totally should've kept the original covers
OOOOOOOOOOOOOOH. Controversial. I do not know though. I think MOST cover changes are done for the GOOD of the covers having shelf appeal.
11. Totally should've stopped at book one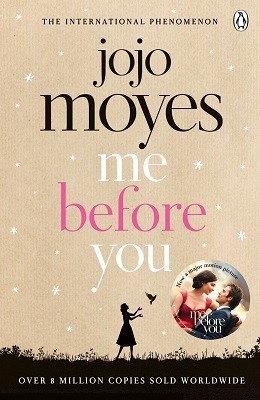 Me Before You. That second book I did not believe AT ALL and haven't gotten round to reading the third book because I disliked the second one so much.
There we go!
Do you agree with any of my answers? 
What would your answers be?
Have you got any covers that you hate?
DO you agree with me on the "take people off the covers of books"?
Speak to me! Let me know your thoughts in the comments!
S x