This past weekend, I attended a bookish event in the North. Listen again, A BOOKISH EVENT IN THE NORTH. (I know, I know, they're becoming more frequent BUT IT'S SO NICE TO BE SOMEWHAT NORTH AND CELEBRATING THE BOOKS).
I was attending Northern YA Literature Festival, which was held at the University of Central Lancashire. It promised to be an interesting day, filled with incredible talks and even more amazing authors. Big shout out to my friends Charlotte and Cora for putting up with ALL DAY. Loved spending the day with #NorthernBookBloggers too!
First up was a great chat about getting into published. Anna Day, Teri Terry and Danny Weston chatted all about their routes into publishing, writing and gave out some pretty stellar advice! 
"You don't need to study creative writing to be a writer!" – Teri Terry
"Read your work aloud" – Danny Weston
"Get someone else to read it and give you feedback" – Teri Terry
"I get my dad to proof read your work" – Anna Day (this caused quite a giggle… with the rest of the panel asking how much he would charge!)
Next up was Feminism in YA – a talk I had been REALLY looking forward to hearing! There was a surprise little 5 minutes from Laura Steven (author of the incredible The Exact Opposite of Okay), who retold the famous Monopoly board story (if you've not heard it, hit me up!) and talked about feminism in her book (it's brilliant, please read it!). She introduced Katherine Webber, Matt Killeen, Annabel Pitcher and Lauren James. It was a brilliant panel talking about what it means to be a feminist and why we need to keep talking about the issue.
"You can't be a bad feminist" – Katherine Webber
"Being a feminist means giving people the freedom to do whatever it is they want to do" – Annabel Pitcher
"Feminism in The Loneliest Girl came from feeling like an imposter during my science degree" – Lauren James
"If you want something, it's OK to ask for it" – Katherine Webber
"You don't have to write every day to be a writer" – Lauren James
Next up came Alwyn Hamilton, who was originally going to just talk to us about the Rebel of the Sands trilogy, which I love BTW, but she managed to convince Samantha Shannon to come on stage and ask her a few questions! I could've listened to Alwyn talk about Rebel for hours. It's a series I love…A LOT. 
"Not knowing the ending to your book is like reading a map without knowing your destination" – Samantha Shannon
"When wrtiting, don't think about it being original, think about it as being creative" – Alwyn Hamilton
"Use your background, knowledge and passion to help you with your ideas" – Alwyn Hamilton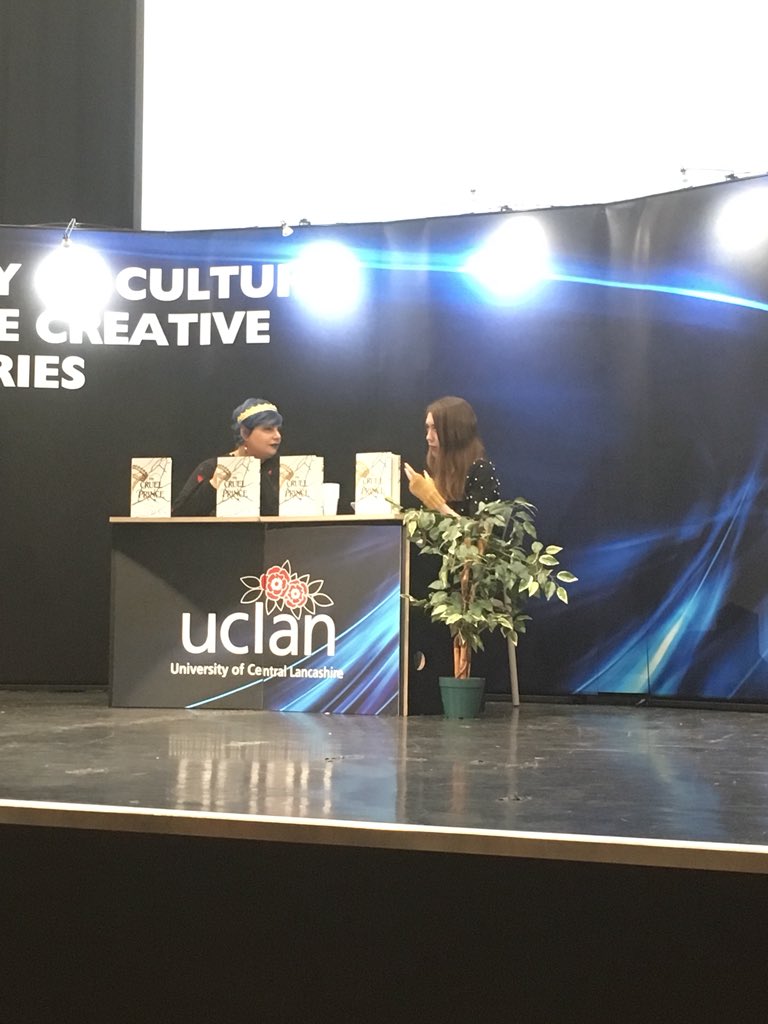 The final event of the day was Samantha Shannon chairing a talk with Holly Black, who I must say has the most incredible hair ever. Her passion for fairy tales and faerie spurred me on and I definitely will check out The Cruel Prince now. The highlight of this chat was most definitely Holly talking to us about her favourite fairy tale: the White Cat. The entire audience was gripped! A funny, interesting and charming chat. I really enjoyed it! 
"Never astral project" – excellent advice from Holly Black's mam
"Getting the right name for your characters can give them a completeness and just feel right" – Holly Black
Take a peek at some of my other personal highlights of the day: drinking a Desperados in the train station, watching Melinda Salisbury's unboxing of FairyLoot, chips in the train station, Taken Moons candles, chocolate and having reserved, front row seats like VIPs!
Thanks for dropping by! NYALit Fest was SO SO GOOD. I can't wait for next year!
S x