The Nowhere Emporium – magical, fantastical and sheer brilliant.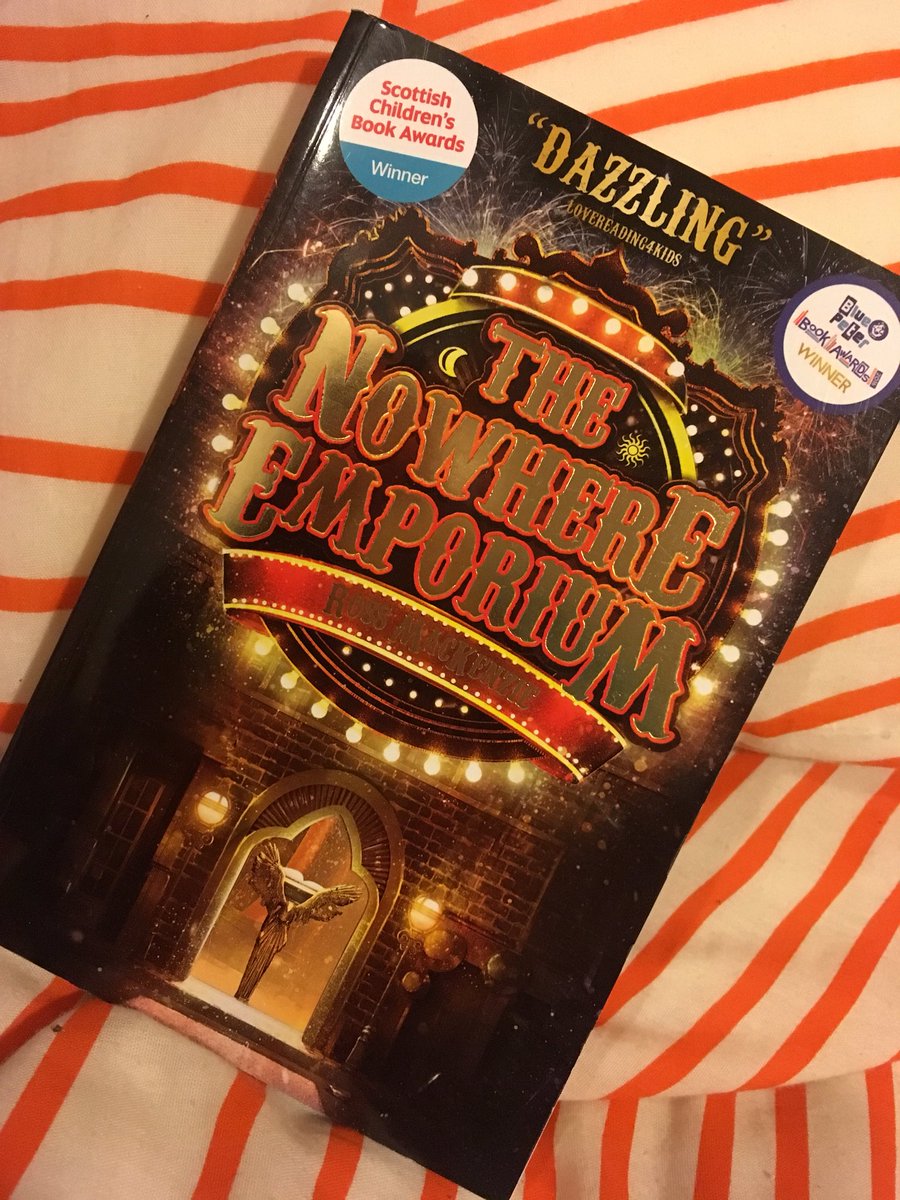 "When the mysterious Nowhere Emporium arrives in Glasgow, orphan Daniel Holmes stumbles upon it quite by accident. Before long, the 'shop from nowhere' — and its owner, Mr Silver — draw Daniel into a breathtaking world of magic and enchantment. Recruited as Mr Silver's apprentice, Daniel learns the secrets of the Emporium's vast labyrinth of passageways and rooms — rooms that contain wonders beyond anything Daniel has ever imagined. But when Mr Silver disappears, and a shadow from the past threatens everything, the Emporium and all its wonders begin to crumble. Can Daniel save his home, and his new friends, before the Nowhere Emporium is destroyed forever?"
You know you've read a special book when you just keep asking the children at school if they've read it yet. Most of them are like "OBVIOUSLY MISS", but when I come across one who hasn't read it yet, my general reaction is "GET IT READ NOW IT IS SO GOOD MAN". 
The Nowhere Emporium tells the tale of Daniel and his weird and wonderful run in with The Nowhere Emporium – a place people visit, but don't remember anything about it. It's a place filled with magic, imagination and sheer wonder. When Daniel first discovers the Emporium, it's just a normal building… but once he's inside the world you see this incredible magic and fantastical world that Mr Silver has created. 
(Side note: as a MASSIVE fan of The Night Circus, this book is like a kids' version and that made my heart SO INCREDIBLY HAPPY. I'm always on the lookout for books like The Night Circus… so please holler if you have any!)
I don't know that I have the words quite yet for how much I loved it. There's so much that makes this book ABSOLUTELY incredible. The characters, the plot, the Emporium itself, the back story, the remarkable world, Daniel's journey… so much and SO FEW words to talk about how much I loved it. 
Inside the Emporium is just room after room of sheer wonder. People come in, leave their imaginations and their incredible visions behind, and then have NO idea they were ever there. The Emporium never stays anywhere too long. It's like a mysterious circus. It's like it's very own incredible caravan that can move around.
(How I write this review without just going PLEASE JUST READ THIS! I'M SO SAD I WAITED SO LONG TO READ THIS! SERIOUSLY THOUGH! READ IT! is beyond me!)
The characters are all interesting – from the people who work at the Emporium, to mysterious Mr. Silver, Ellie, or the infamous baddie. The thing I loved most was that you actually got to know the history of the characters. You find out Mr. Silver's history (there's a pretty tragic story that comes with his story, that did leave me pretty gutted!)
There's a scene towards the end of the book that just blew me away. I don't want to spoil it, but the imagery, the imagintion and the clever manipulation of the Emporium just made my heart really happy. 
This book is clever. Like properly clever. I would LOVE to use this as a class novel. I think you could get SO SO much from it. There's so much potential for some incredible description and some brilliant art work that could come from this! I'd love to see what kids would create as their own room in the Nowhere Emporium. Seeing the creations would be amazing! 
(I realise my review is SO RUBBISH at conveying the things I actually loved about this book, but I genuinely did love it… wholeheartedly).
My goodreads does this book SO MUCH MORE JUSTICE, in far fewer words!
Absolutely incredible. I just don't have the words for this. The evil villain, the tragic back story, the brilliant background characters, magpies, friendship, family… ALL INCREDIBLE. Throw in a massive dollop of magic and a writing style that you just can't help but devour and you get this special book. I need more NOW.
PLUS… there's a sequel coming out and I GENUINELY CAN'T WAIT. Bring it on. I love a sequel. The Elsewhere Emporium, guys. I'm excited.
What would your room in the Nowhere Emporium look like?
HOW EXCITED ARE YOU FOR THE ELSEWHERE EMPORIUM?
Can you recommend me any other books (kids or YA) that are swimilar to The Night Circus?
Please share all recommendations or thoughts in the comments or on twitter, I'd love to squee over this book with someone! 
S x