Dear publishers, friends, wonderful authors,

Thank you so much for all of your wonderful book post. You don't have to send them to me and I am so eternally grateful for when you do. There is no joy quite as incredible as when I get home after a tough day to an envelope which I KNOW contains a book (my mam often jokes that it's a football/bread/statue of liberty). It never gets old receiving book post. It never stops being amazing that you are kind enough to send me book post. I'm just a little blogger, reading and reviewing books and it means the world that people send me books.

Once books have been read they go 1 of 3 ways:

To the school library: if they're kids books, I'll send them to my school library. If they're YA books or books which are too old for my kids, I'll send them to a local secondary school.
Stay on my shelf: if I loved it and know I'll reread it, I'll place it on my shelf. That's where the "to stay" books go.
Pass it round: I love passing books round to my friends. You've shared books these amazing books with me, so I get to share them with others.

Love, alittlebutalot xxx
In light of this, I'm going to share a monthly #bookpost appreciation post to show you some of the incredible bookpost I've received.
This time round I have to share one of the most incredible #bookpost hauls I've ever had. Courtesy of the incredible people at Puffin, I received: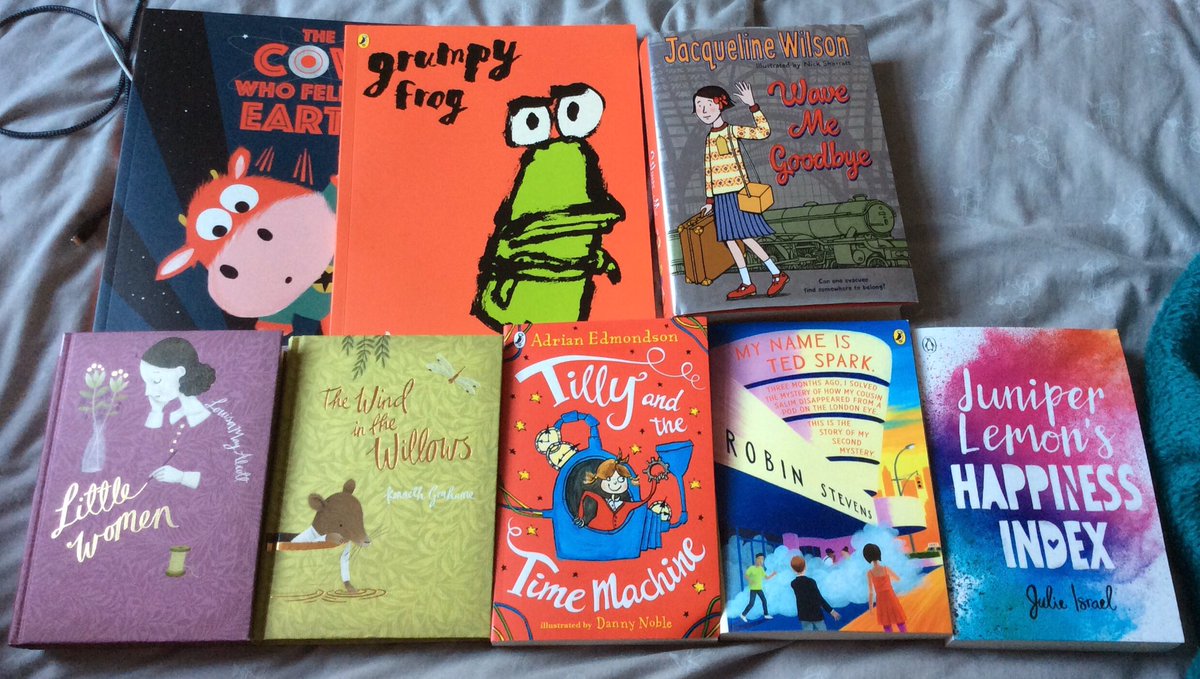 Check out that haul. *makes heart eyes*
The Cow That Fell To Earth – Nadia Shireen (an amazing looking picture book, I love cows!)
Grumpy Frog – Ed Vere (I am SUCH an Ed Vere fan, his books are lush)
Wave Me Goodbye – Jacqueline Wilson (one that I've been VERY excited to receive, it's about a WW2 evacuee!)
Little Women – Louise May Alcott (this is from the incredible new versions of classics, I read this as a child and am looking forward to reading it again)
The Wind in the Willows – Kenneth Grahame (I don't think I've EVER read this, but now that I have it, I definitely will be!)
Tilly and the Time Machine – Adrian Edmondson (I think this is one that will DEFINITELY be going to the school library; just from the cover, it'll be a hit!)
The Guggenheim Mystery – Robin Stevens (I haven't read the first book of this series yet, I must before I read this one!)
Juniper Lemon's Happiness Index – Julia Isreal (Oh man, I am a SUCKER for YA novels and that cover is EVERYTHING. Can't wait to read this!)
Thank you Puffin so much for my incredible bookpost. 
What's your favourite kind of post?
What book post has been your favourite of all time?
Let me know in the comments, or on twitter (@eenalol). I would love to see your bookpost!
S x