Good morning everyone!
I hope you're all doing well and staying safe!
Today, I'm sharing 4 books that I adored AND that my kids are absolutely lapping up. These books have only been in my classroom a short amount of time and they've not been on the shelf for longer than a few minutes!
***
Miles Morales: Shock Waves by Justin A Reynolds
Miles Morales is a normal kid who happens to juggle school at Brooklyn Visions Academy while swinging through the streets of Brooklyn as Spider-Man. After a disastrous earthquake strikes his mother's birthplace of Puerto Rico, Miles springs into action to help set up a fundraiser for the devastated island. But when a new student's father goes missing, Miles begins to make connections between the disappearance and a giant corporation sponsoring Miles' fundraiser. Who is behind the disappearance, and how does that relate to Spider-Man?
We watched the Miles Morales Spiderman film a while back and we loved it so much! When I got an email from Scholastic to say that there was a graphic novel version coming out, I knew I needed to get it! I read this as soon as it arrived and I absolutely loved it! It's got everything you've come to love and expect with Miles: charm, humour and of course, Miles (superhero and a teenager all rolled into one)! What happens when a man goes missing and a strange rock appears along with girls with superpowers? Well it's Miles' job to figure it out… and still be a good son and friend! I don't envy his job mind – it's hard enough just being a teenager, never mind Spider-Man too! I thought the artwork in this was exceptional! My kids have asked me multiple times if there's more to come/if I've got more hiding because they are desperate for more from Miles!
Shock Waves is out now from Scholastic.
Fireborn by Aisling Fowler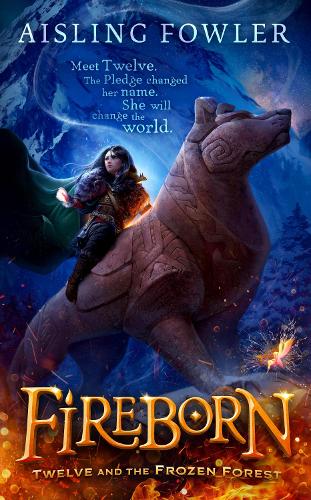 Ember is full of monsters. Twelve gave up her name and identity to train in the art of hunting them–so she says. The truth is much more deadly: she trains to take revenge on those who took her family from her. But when Twelve's new home is attacked, she'll find herself on an unexpected journey, where her hidden past is inescapably intertwined with her destiny–and the very fate of her world.
This is one of those books that I've seen EVERYONE AND THEIR DOG (ha) talking about… so I decided to give it a go. I'm not normally one for hyped books (I find they don't usually live up to the hype), but my gosh, this is SO SO worth it. This book is, in a word, epic. Just take a bow Aisling Fowler – this is *chefs kiss*. Fireborn just oozes brilliance. It's got everything I could possibly want from a kids' fantasy book: magic, goblins, rebellion, battles, friendship, rivalry, a collection of outcasts, weapons and fighting for the good. I loved the characters, the story and the pace of this. This just WORKS SO WELL. Bloody love a badass main character who throws axes. This is gonna spark so much love when it comes out. My kids are loving that this a bit more grown up and serious than some books, but that doesn't mean it's inappropriate! There's some darkness in this, a bit of betrayal and a character who is deceptive… but it just oozes brilliance. I can't wait for more from this series!
Fireborn is released September 30th by HarperCollins.
Moonchild: City of the Sun by Aisha Bushby
The Sahar Peninsula lies just beyond the horizon, but it isn't the easiest place to get to. No maps will take you there, nor can it be charted by gazing up at the stars, or down at a compass… Farah and her lizard jinn, Layla, are travelling through a vast desert – returning to their village home after their adventures with Amira and Leo in Moonchild: Voyage of the Lost and Found. Farah is desperate to see her sister again, but then she discovers a hidden city – full of people who have concealed their magic for many years. At first Farah thinks she has found new friends, but everything is not what it seems and dark magic lies just beneath the surface …
I read the first of the Moonchild series last year and have been desperately trying to get my hands on the second in the series. When it came through my door, I put off reading it because I wanted to wait until I had some real time to read… and therein comes half term – some real time to sit and read! What I discovered when I finally opened the pages was being back with old friends, increidble landscapes and this wonderful magic was well worth the wait! It was lush. This series takes you to a wonderful land filled with magic, storytelling and friends. I love how this was so intertwined with book 1, but had an identity of its own. The end made me shed a tear or two. Aisha is a wonderful storyteller and I hope we get more from this land because I just adore it. The characters are so wonderful and I love the integration of messages around emotions – it's important we feel them all! This is helping a few of my kids to talk about their emotions and what happens when they feel them because they're able to talk about it through the characters and relate that to their own emotions (and anything that can help children open up and talk about how they're feeling is a bloody winner in my book!)
Moonchild: City of the Sun is out now from Farshore.
The Secret Detectives by Ella Rinsbridger
When Isobel Petty is orphaned, she finds herself being taken away from her home in India and sent to live with a distant uncle in England. On board the S.S. Mariana, she witnesses a shocking act – somebody being thrown overboard in the middle in the night. But when the ship's captain insists that nobody is missing, Isobel and her two new reluctant friends must solve two mysteries – the identities of both the murderer and the victim – before they reach England and the culprit has the chance to escape.
This is one of those books that comes through my door and it just makes me read it. Sometimes books do that! When it arrived from Nosy Crow, I thought 'oooh a detective story, that's different' and as soon as I read the first few pages, I wanted to know more about these characters and the mystery they are solving! Once I got going, I didn't stop and I thoroughly enjoyed it!This is a brilliant historical murder mystery set aboard a ship. Featuring gorgeous characters and dynamics with lots of personalities to get to know and to get to be suspicious of! I'm a big fan of Sam and Isobel – I'd love to join their detective agency! There's some wonderful messages about being kind and watching out for people in this. It certainly kept me guessing!
The Secret Detectives is out now from Nosy Crow.
***
And there you go! I had such a blast reading these and my class are ALREADY racing through them! A massive thank you to the publishers who sent me these books, and to my bank account ha! Thanks so much for stopping by!
What have you read recently?
What's on your TBR?
Recommend me a book that you've love recently!
S x