It's Pride Month, so it's only fair that I do a pride themed tag!
Now, I will recognise that this tag only acknowledges the 7 colours in the rainbow flag and that in fact the pride flag has way more colours in it.
As a queer person in the world, I really appreciate when I get to read good stories with queer characters (however they identify). The world is full of people of all kinds and our reading should show that – if all you read is characters with your life experiences, you're not experiencing the world as it truly is in all its colour and brilliance!
Read outside of your experiences and it might teach you something, but it'll definitely make you smile!
***
1. Red (Life) – A book with a spirited protagonist totally proud of who they are. Someone who gives you LIFE!
The first character who just JUMPS out at me for this is Jack from Jack of Hearts and Other Parts by L.C. Rosen. Jack embraces life, his sexuality and his sex life with open arms and he was an absolute JOY to read about!
2. Orange (Healing) – A book that made you, as the reader, find a deeper meaning or catharsis in your own life.
I vididly remember reading Out of the Blue by Sophie Cameron and for the first time seeing a character go what I'd been through… and it just blew me away. That visceral reaction I went through as I read one of the scenes in this book will stay with me forever.
3. Yellow (Sunshine) – A book that fills you with so much joy it could brighten even your darkest day.
Oh man. I love queer books. They all, in their own ways, bring me joy. Melt My Heart by Bethany Rutter though is what everyone needs: happiness, ice cream, good friends, messages of body positivity and just all round lushness!
4. Green (Nature) – A book that is set out of this world — a reality different to our own.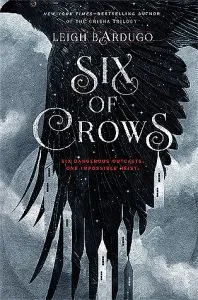 It's gotta be Six of Crows by Leigh Bardugo. This world is EXCEPTIONAL and I love all of the characters. This is one of those stories that I wish I could forget and read again… because it's THAT good.
5. Blue (Peace) – A book where one of the characters finds peace with a difficult truth.
Felix, Ever After by Kacen Callender. Felix has to realise that he gets to choose the love he wants and he has to realise that he accepts the love he thinks he deserves as well as learning that it's by opening up and letting people in that we learn to grow, not by hiding away.
6. Purple (Spirit) – A book that deals with LGBT+ themes and religion.
Run, Rebel by Manjeet Mann is a book that I think everyone should read. This book made me so so mad, but it filled me with hope!
***
And that's it for now!
What answers would you have given for these questions?
Have you read any of these?
Do you have a favourite colour on the rainbow flag?
I'd love to know your thoughts in the comments!
S x