Frog vs Toad: we might be different, but we're more similar than you think!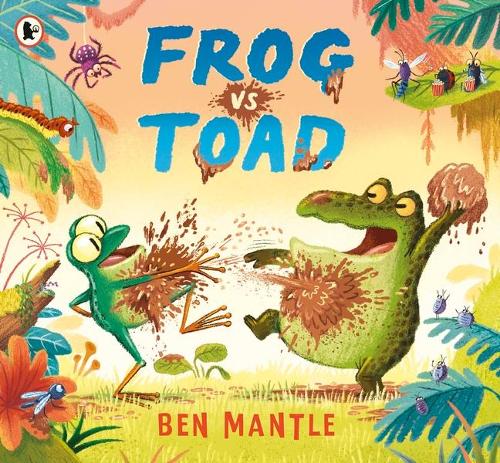 Frog is a frog. And Toad is a toad. They are totally different from each other. So when a fly mistakes Frog and Toad for two FROGS, it's not long before things get a bit fruity… Luckily, a too-close call with a snappy alligator makes Frog and Toad join forces to see that they're not THAT different after all… At heart, a laugh-out-loud journey about togetherness, putting differences aside and realizing that friends don't need to be just like you, but they come in all shapes and sizes!
Frog vs Toad is a hilarious look at the importance of accepting others for who they are… because we're all the same underneath it all.
Frog is over the moon that he's been able to grab hold of a fly, but when he realises that Toad has also gone for the same fly, all bets are off. These two just can not get on. The fly insults them by saying that they're the same… a frog and a toad the same? SURELY NOT. They spend the next few double page spreads arguing about how one of them is better than the other.
What escalates from an argument to some mud throwing fun and games with everyone in the swamp joining in the fun (cause let's be real, we all would!). That is until a larger animal of the swamp arrives and he is incredibly unhappy about being woken up by these arguing amphibians! When our toothy friend delivers an important message about the toad and the frog, they see that we're more alike than the same…
But that's not the end of the tale… someone is in the same state of unhappy as frog and toad were at the beginning of the story!
I thought this story was brilliant! It is JAM PACKED with brilliant science and some wonderful PSHE messages too! I think our science coordinator will love this book! It's not overly-scientific, but it will certainly shed some light on the differences between toads and frogs!
This is Ben Mantle's first authored picture book and if this is the sign of what's to come, I can not wait! This is funny, brilliantly illustrated and has a wonderful message! A winner all round for me!
A massive thanks to Walker/Big Picture Books for sending me a copy of Frog vs Toad! I can't wait to share it with everyone at school! Remember to check out the rest of the blog tour (details below):
Frog vs Toad is out NOW!
S x