Vi Spy: an absolute winner from cover to cover!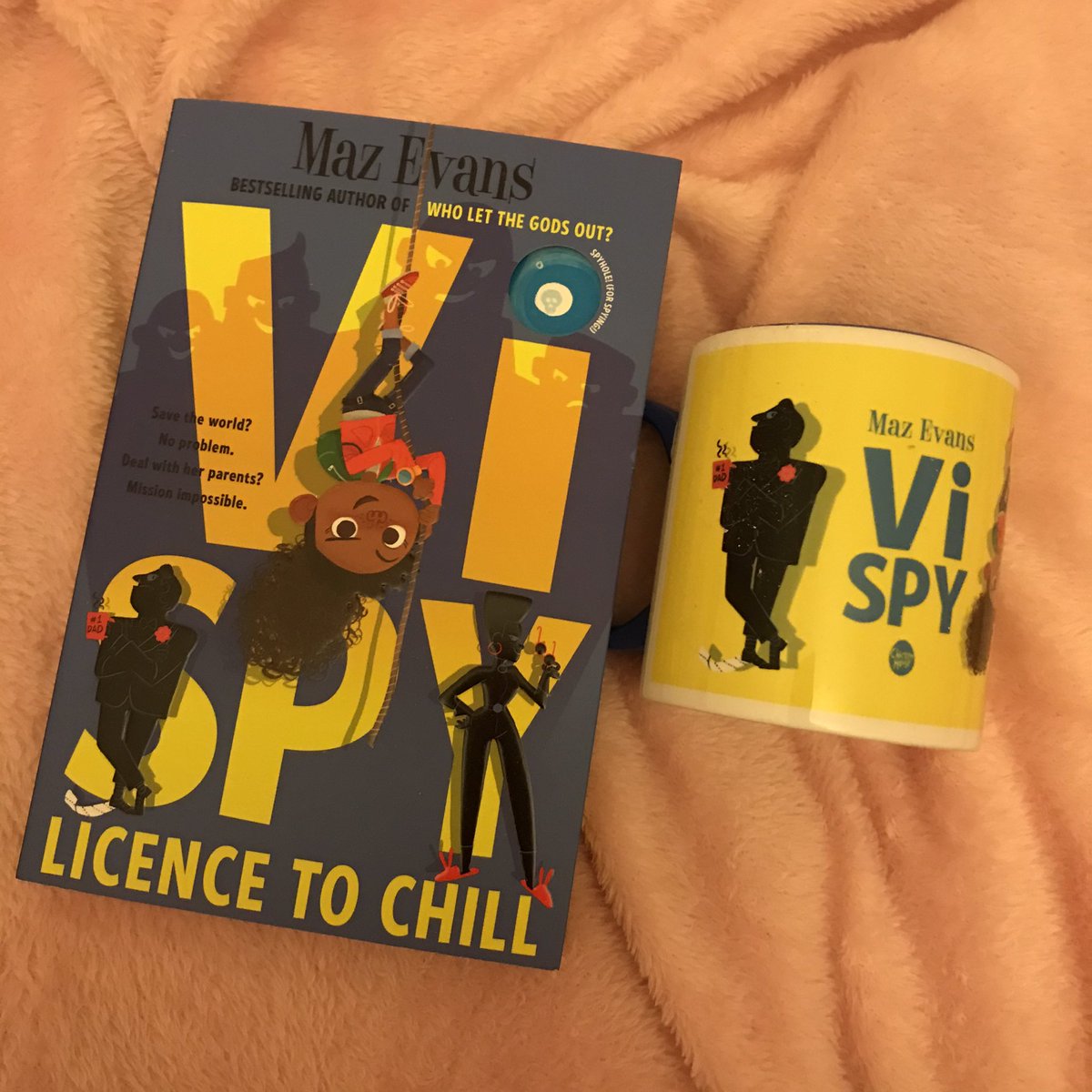 "Divorce is tough for any kid. But when – like Vi's parents – your mum is ex-secret service and your dad is a retired bad guy, 'till death do us part' takes on a whole new meaning. And with her parents' focus on each other, the real super-villains are having a field day. To save her family – and the world – from evil domination, Vi must turn spy …"
If you're new around here, you might not know that I am one of Maz Evans' biggest fans. Her Who Let The Gods Out series is one of my favourite kids' series of ever (it's got like everything I need in a story… magic, mythology, humour, it's fast paced) and when I found out she was releasing a new series, I knew I needed to get my hands on it. I was EXCEPTIONALLY LUCKY to get an early copy from the publishers and I saved it for the weekend just gone as a weekend/birthday treat to myself… and let me tell you…
It is just BLOODY BRILLIANT.
Vi Spy tells the story of brilliant Valentine Day, a young girl who is just going about her business as a member of her Year 6 class – she's not particularly popular; she's not hated… she just exists there. However, her mam is dating her teacher (Mr. Sprout) and she's not the biggest fan of this! As far as Vi is aware, her dad died when she was younger, so it is QUITE A SURPRISE to her when her dad shows up one day. He's not dead? He's a super villain? Not only this, but she also discovers that her mam is (was?) a spy as well as the rest of her family! When things start going a bit mad in Vi's tiny little town, it's down to Vi to save the day… because obviously right?!
In 'Vi Spy', you've got the most brilliant spy book that's perfect for kids who love a bit of humour, a brilliant plot and a sense of 'OMG I need to keep reading!'
One of the things I love most about Maz's books is the characters, and this book doesn't let us down with the gorgeous characters. Valentine (or Vi as most people call her) is that brilliant mix of tenacious and relatable. I know there'll be a lot of children who can relate to what Vi is going through (more the friendship/dealing with school troubles, less the being a spy troubles though haha) and who can empathise with what she's going through. Divorce isn't a thing that's discussed in many kids books, and this book shows that sometimes divorces can be messy, and when you meet Russell (who is Mr. Sprout's son, yes, you read that right Russell Sprout… that made me actually LOL), you get a very realistic look at an unhappy divorce from a child's point of view. Russell is a gorgeous technology-loving kid in Vi's class who we see being picked on by the kids in their class… him and Vi go through a lot being classmates come step-siblings and I really appreciated their full circle relationship through the story.
Obviously the adults in this story play just as important a part as the children. You've got mysterious supervillain Umbra (I LOVED this nugget of science fact sharing… I will forever know and remember what an umbra is thanks to this book!) who I have my suspicions about who it is. There's Vi's's mam Susan/Easter: the reluctant spy, over-protective mother who just wants the best for her daughter. There's Vi's dad Robert: mysterious-was-dead dad who joins an AA type club for recovering super villains – you're NEVER quite sure about his motives! Vi has a gorgeous gorgeous and HILARIOUS Nan, who herself has many a secret and many a friend! I loved that Nan was an ally for Vi all the way through the book.
There were some lovely moments in this. From Vi and Russell talking about divorce, to learning about how to be a good friend, to the fusion of families. There's lovely messages in this that I think a lot of kids are going to appreciate a lot. I think a lot of teachers will love this book because not only would it make a brilliant read aloud, but it'll be a bloody brilliant book to start conversations about divorce, remarriage and friendships.
As I read this, I thought it was like a super child friendly, less sexy version of the film 'Mr and Mr Smith' (yes, the one with Brad Pitt and Angelina). This story, it's characters and its sense of fun is absolutely spot on for kids. It's hilarious and it's fast paced. I can't wait for my class to read this and absolutely adore it.
My Goodreads review:
Absolutely loved this. THIS IS A RIP-ROARING SPY-TASTIC ADVENTURE. Mind control, a group of villains and a quest to save the world. Vi is blooming gorgeous and I loved all of the gang in this! This story is like all the brilliant Maz things we love: humour, gorgeous messages and a plot that keeps you wanting to read on! I laughed and I was audibly shocked at one point… beware: you can't trust anyone!
A massive massive thank you to the brilliant people of Chicken House Books for sending me a review copy of this book and the wonderful goodies that came with it! I can't wait for everyone else to enjoy it and just rant and rave about it!
Have you read any of Maz Evans books?
Would you like to be a spy?
Will you be buying yourself a copy of this book?
Talk to me in the comments! I'd love to gush about this book to someone!
S x