Hello lovely friends! 
Today is another blog tour post from a wonderful author and I'm so very glad and honoured to be hosting this post! The brilliant Sharon Gosling, author of House of Hidden Wonders, has put together a step by step guide for printing a linocut! 
***
Printing a Linocut
A couple of years ago, a friend gave me a linocut starter kit for my birthday, and I've been having fun making prints with it ever since. I even produced two illustrations to go with the newspaper articles that appear in The House of Hidden Wonders!
Linocutting involves carving out a picture or design into a 'block' (some artists still use real linoleum, hence the name, but nowadays it's more likely that you'll use a soft piece of rubbery plastic), rolling ink over it, then pressing a piece of paper onto the block to reveal the picture. It's a very simple technique to learn, so I thought I'd do a step-by-step blog of how I made the image that appears on the bookmark that Little Tiger printed to celebrate the book's launch.
First of all, it's a good idea to sketch out your picture on paper first. Try for something simple at first – a leaf, perhaps, or a flower. I wanted to try producing a picture of Mary King's Close, so that's what I sketched here.
Next, I use a piece of tracing paper to copy the design. Use the softest graphite pencil you have for this bit, as you want it to transfer well, as you'll see in the next step.
Next, I turn the tracing paper over so the lines I've just copied are against the printing block and rub with my pencil over the top. Because you will be carving into a block and then printing from it, the image you'll end up with will be reversed, so at this point it needs to be backwards. That can be confusing! Tracing and then transferring the picture like this is the easiest way I have found for making sure the picture is the right way around when printed. By the time you've rubbed all over the lines, it will have transferred to the lino.
Now it's time to carve out the image. Since this is a print, anything you cut out will appear as white. Anything left behind will take on the colour of the ink. Here I'm using the smallest knife in the set. Be careful, though – they're very sharp! Make sure you always carve away from you, and keep the fingers of your free hand out of the way!
Once you've carved out your design, it's time to ink. I forgot to take a photograph of this bit (sorry!), but here is what you need – an ink tray, ink and a roller. Roll the ink over the block that you've just carved, then put the sheet over paper over the block. Press the paper over the block with firm, circular movements using your fingers tips or the back of a spoon. Try not to let the paper move, or the print will smudge. Then carefully peel off the paper and there you have it – a hand-printed linocut!
If you've read The House of Hidden Wonders, you might be able to work out who this character is!
If you'd like to learn more about how to make a print like this, there are lots of very helpful tutorials online. A starter set like the one I got will cost between £15-£25.
***
I did a very similar activity to this with my class (I say I did, my amazing TA did!) so it was amazing to see how someone else does exactly the same process! If anyone is interested in the process of how we did it at school, let me know and I could write a blog post all about it! 
House of Hidden Wonders by Sharon Gosling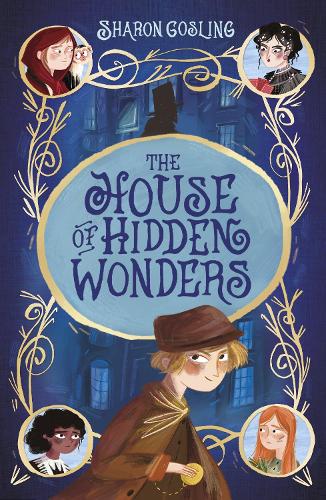 "Zinnie and her sisters live in the murky tunnels beneath Edinburgh's Old Town. They keep out of the way of the authorities and remain undetected. Until, that is, rumours of a ghost bring unwanted visitors into the caverns they call home. Among them, a young Arthur Conan Doyle, keen to investigate, and MacDuff, the shady owner of Edinburgh's newest attraction, the House of Wonders. Caught up in a world of intrigue and adventure, Zinnie seeks answers. But how can she discover what secrets lie in the House of Wonders while also protecting the sisters she holds so dear?"
House of Hidden Wonders is out now! Go check it out – buy online or through your favourite indie! A massive thank you to Sharon for her wonderful blog post and to the publishers, Stripes, for sending me a copy o this brilliant book – a review will be up in the coming days! 
S x