Exile: new friends, old friends; new enemies, old enemies; same old dangerous dinosaurs. 
"Betrayal. Sacrifice. Survival. Welcome to The Extinction Trials.
After surviving on Piloria once, Storm and Lincoln are the obvious candidates to return to the dinosaur continent to test the new virus that should clear the way for human settlement. But they have their own priorities – finding a cure for the plague that's sweeping Earthasia, and keeping themselves alive."
For those of you who have been living under a rock, The Extinction Trials is one of those brilliantly excellent series that comes along and kicks you in the face with its brilliance. Last year, the first book in the trilogy (I think?!) was released. The Extinction Trials was our first introduction to Stormchaser and her world – trying to rid their world of dinosaurs. If you're interested in finding out more about The Extinction Trials, check out my review here BLOG TOUR: The Extinction Trials. It's actually a little bit different that review – it's an aesthetic/mood board that the book inspired. You should DEFINITELY read the book though. 
For those of you who have read book 1, welcome to my review of book 2. Yes, hello, I have read Exile and I LOVED IT OK. (I could stop this review there, but I'm sure you came for more than I LOVED IT OK. I love lots of books. That's probably one of the things you've noticed about me. But anyway, less rambling, more reviewing).
So Exile leaves off not long after where The Extinction Trials finishes. Storm, Lincoln and the crew are back in their home land, away from the land of the dinosaurs. Safe. Ish. Life has carried on while they were away – Arta is still poorly, people are still starving, there are still more people than there is land. At the end of Extinction Trials, Storm makes a very brave decision which benefits those siblings who are left behind. She's kind of bending the rules; she's been brilliant. Things start to change for Storm. She ends up getting a new job, which obviously leads her to going back to Piloria – back to the dinosaurs. Back to the danger, the nightmare. But also back to the colour, the warmth, the dream. (I won't spoil it for you as to HOW she comes about this situation… but I thought it was an INTERESTING turn of events that made sense! And YAY Lincoln gets to go back with her!)
So here we go again, ready to fight the battle again – dinosaurs, danger and DNA. It's always dinosaurs and their DNA. It's always dinosaurs and their death. 
I absolutely loved being back on Piloria with these characters again. I didn't realise how much I missed these characters until I started reading again. It's so wonderful when you read the second book in a trilogy and you remember what you loved about them so much. I very much have that about Storm and Lincoln. I remembered their stories. The things these kids have to go through for their government are astounding. I just think I don't know what I would do. The assortment of dilemmas thrown at them through the book are eye-opening. Would you choose to kill dinosaurs? Would you do anything to save your sister? Would you rescue the families of the people you watched die? Would you go to a VERY dangerous island with your estranged father? (I know what I would do, and it would not be noble. I am much too duty bound)
I absolutely loved seeing Blaine again. He was one of the things I loved the most about book 1 so getting to see him again in this book made me so happy. (I clearly have something about that kind of character – the man left to survive on the island. The Explorer from The Explorer was one of my favourite things about that book too!) Adding new characters, new dynamics, new relationships to the mix meant there was another level of risk, danger and love in the mission this time. There's daughters and fathers, old friends and new friends, enemies and friends. Add in new emotions and new people to a mission that some have already been on before and you're bound to have some frought tempers.
Another thing I absolutely adored in this book (and in book 1) was that it was JUST THE RIGHT amount of peril. There were moments where I was like OMG NO. DONT DO THAT. SHUSH BE QUIET. THEY'LL HEAR YOU. (I know the characters can't hear me, that doesn't stop me though, shush now!) DINOSAURS ARE SCARY GUYS. I mean, I wouldn't want to mess with a T-Rex. I don't care who you are. The dinosaur scenes are intense. A lot intense. 
This book is BRILLIANT. I love a good bit of dystopian YA fiction (hello have you met me?) and Susan Wilson just keeps hitting the nail on the head with these books. If you're looking for a brilliant, brave main character, some danger and beautiful writing, then you've come to the right series!
My Goodreads review is SO terrible, I really must work on these:
"SO GOOD. I missed these characters, this world. There's some new friends and enemies in this book and the plot is woven deeper this time round. Just lush."
Also, a massive massive cry happened when I saw this… THAT'S ME. I definitely did cry. Me and some of my favourites. Thank you so much to Susan. I will forever shout about these books because they're WONDERFUL.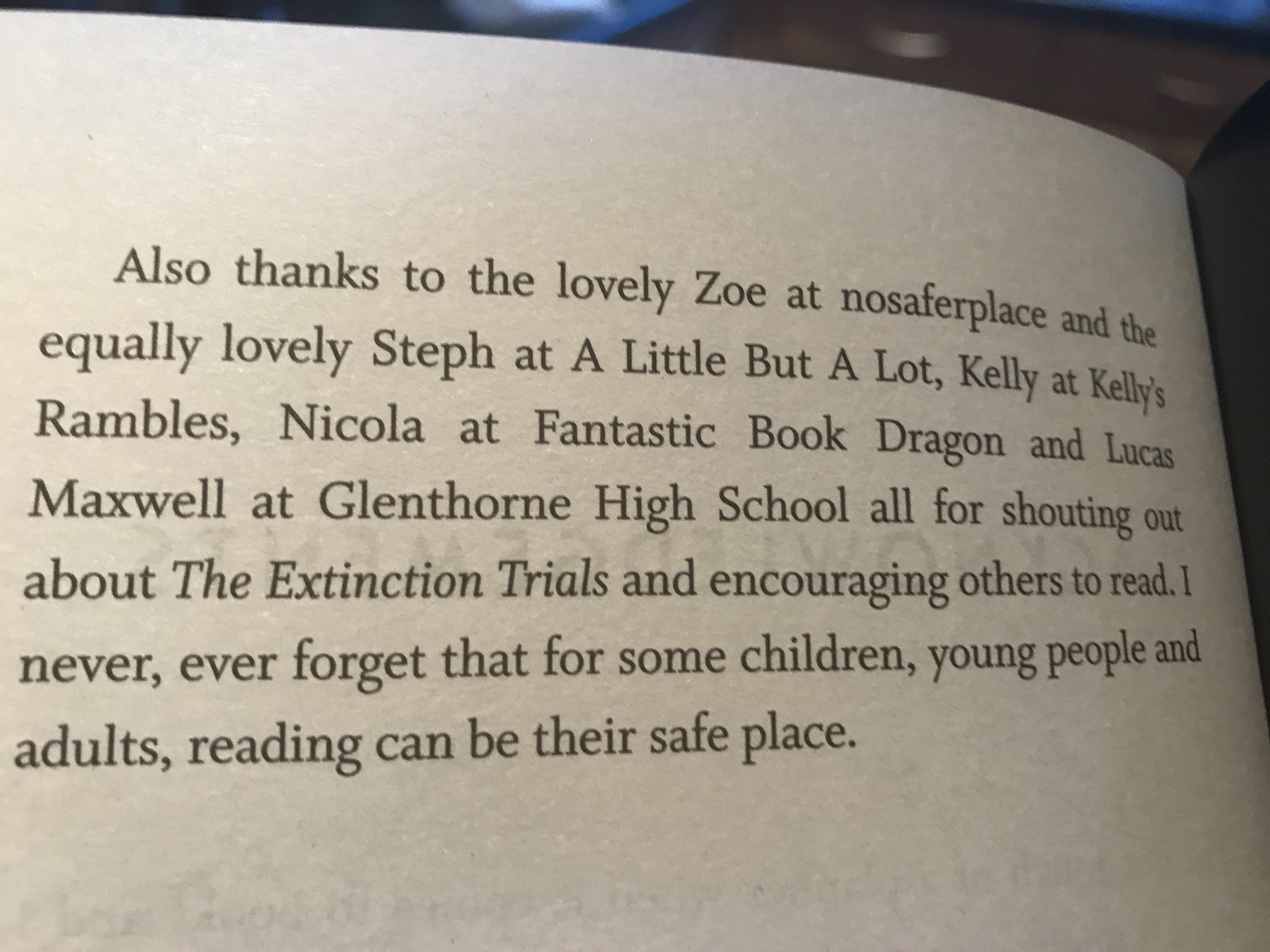 Anyway, yes. There you go. Sorry to keep you here so long. Have you bought the book yet? Are you tempted to? Well you should because it's brilliant. I don't lie to you guys ever. I wouldn't. 
Are you tempted to buy The Extinction Trials?
Would you like to follow Storm and go to Piloria?
Do you have a favourite dinosaur?
Let me know in the comments or on twitter! I'm always free for a chat – @eenalol!
S x