Clean: dark, delicious and deceitful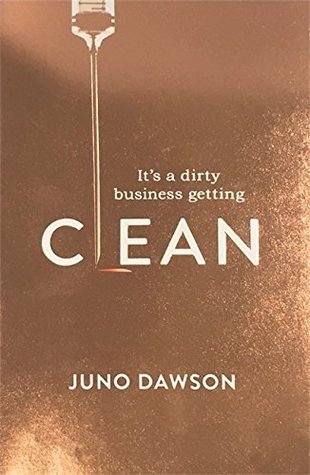 "When socialite Lexi Volkov almost overdoses, she thinks she's hit rock bottom. She's wrong. Rock bottom is when she's forced into an exclusive rehab facility. From there, the only way is up for Lexi and her fellow inmates, including the mysterious Brady. As she faces her demons, Lexi realises love is the most powerful drug of all … 
It's a dirty business getting clean …"
Clean came into my life via a proof from the lovely humans of the publishers, and my word, WHAT A BOOK. This book is dark, gritty and hard to read at times. Possible trigger warnings for drugs, but it's an INCREDIBLE book that I definitely need more of.
This book doesn't shy away from the nitty gritty. You're thrown into the world of Lexi's addiction. You live it. You see it in her flashbacks. You see what she goes through. The people she hangs around with. The cocky attitude she has. The lifestyle she lives. Parties. Drugs. Men, or one man in particular. 
Brilliant flashbacks paired with Lexi's story of rehab make for very interesting reading. Lexi is admitted to rehab by her brother. Her lovely brother. I really liked him. He wanted what was best for his sister. It's great to read a positive brother/sister relationship. Obviously, she initially hates him because he's sentenced her to rehab, to being better, to getting clean. He's a constant force of good in her life. He wants to look after her, even when that looks like sending her to the hardest place in the world for an addict. 
The people she's in rehab with are brilliantly endearing characters. They're not all there for addictions to drugs like Lexi. There's sex addicts, food adicts, fellow drug addicts. Learning about their own vices and their stories, as well as seeing them interact with Lexi over time, made for brilliant reading. The scenes of Lexi struggling with her first few days were hard to read, but I needed to know how she got on. Watching her learn to trust these fellow rehab patients made for intrigue. Their friendships kept my interest level up and I wanted MORE. I wanted more from their interactions. I wanted more scenes of them together.
Lexi makes some STUPID decisions – both in the past, and then in the present narrative of the book. I was on the tube reading Clean and genuinely gasped and had to say to my book "Oh Lexi, you fool" at one point (which made my friend Kelly laugh a lot!) You live the whole process with Lexi – withdrawal, pain, falling, friendship, anger, love. Watching Lexi's growth from a complete addict at the beginning of the book to the end was touching. She does a LOT of growing, but that nagging voice of addiction is always there. That slither of want. 
A small shout out here to the romance in the book – for me it was a welcome addition and it gave me moments of warmth in an otherwise really harsh and dark book. I really want them to be happy. I'm not sure that's what Juno has in store for me though… you'll have to read to know who I mean! 
This book is hard to read but it is endearing and you will soon be addicted (lol soz) to it after a few chapters – I know I was! I can't wait for more from Lexi and the crew! Bring it on!
Have you read Clean?
Do you have a favourite patient?
What do you think is next for the gang?
Talk to me! I'd love to know your thoughts!
S x