Good morning everyone!
It's my stop on the blog tour for The Bear Who Sailed The Ocean On An Iceberg by Emily Crichley. This book was instantly snapped up by one of the kids in my class who told me the cover just made her smile!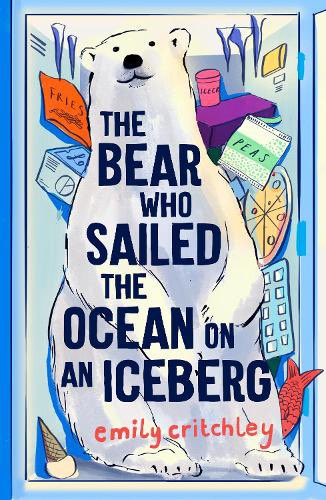 From a Carnegie nominated author, a brilliantly funny and touching story about a boy who finds a polar bear in his parents' freezer. How did Monty get there? And who is Monty? Official name, Wilbur Ambrose Cedric Reginald Montague, the Third; Monty to his friends. A huge polar bear who talks like he might have swallowed a dictionary as well as a library ― he has read more books than Patrick knew existed ―and whose stomach is always rumbling. ALWAYS. But how is Patrick going to feed him on his pocket money that does not stretch much further than a few tins of sardines?
I actually got one of my class to help me write this! I hope you enjoy it!
***
Patrick isn't having the best time with life. There's all kinds going on for him. There's been tragedy in the house and his mam isn't doing very well (in fact because she's so sad she's staying in bed). Patrick's dad is away in Scotland, so he can't help out.
Not only is Patrick's home life not so wonderful, but he's not having a good time at school either. He's just moved schools – he has gone into Year 7 at a new school and he is not having a good time at all. He's miserable and there's other children bullying him. He doesn't know how to make it stop and all he wants is life to go back to normal. Jake, the main boy who is bullying him, is bullying him daily and Patrick just wants it to stop.
Things take a turn for the strange when Patrick discovers something mighty unusual in his garage: there's a MASSIVE polar bear in there… what happens when this polar bear stars to thaw? Well… Patrick discovers a friend, an ally. Life doesn't instantly get better (because the things Patrick is going through can't instantly change in a day) but life starts to improve because Patrick finally has someone at his side that he can talk to.
This book made me laugh a lot – it's all a bit unrealistic having a talking polar bear who wants to travel back to the sea – and it is definitely the kind of book that would make my teacher cry! (As this kid's teacher, I can tell you it IS the kind of book that would make me cry!)
I really enjoyed this book because it was all about friendship and grieving and life. Life's not always easy, but it's easier when you've got someone like Monty on your side.
***
A massive thanks to the publishers, Everything with Words, for sending me a copy of the book – as you can tell it has already found at least one loving home!
Why don't you check out the rest of the stops on the blog tour? (details below)
The Bear Who Sailed The Ocean On An Iceberg by Emily Critchley is out now! Go get yourself a copy!
S x