Kissing Emma: a story full of fight, falling and family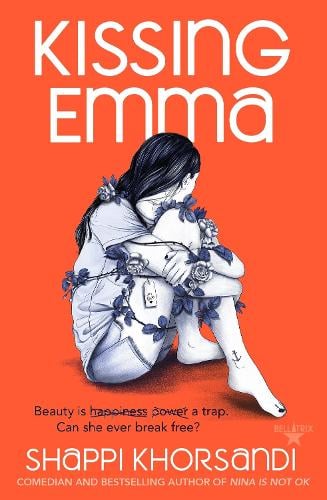 Emma and her mother are down on their luck. They're taking turns sleeping on the sofa in her nan's tiny flat – and desperately trying to come up with an escape plan. Emma is struggling with her family, struggling at school where the girls are bitchy towards her and the boys only seem to want one thing, and struggling with never having enough money for anything, ever. Just as she's contemplating quitting school to get a real job, she meets two men who convince her that she has a shot at modelling. But their motives are far from innocent, and Emma is soon pulled into a dark world. And then she meets Con, who is rich, handsome and so romantic! Has Emma's luck finally changed? 
Kissing Emma is inspired by the real life and untold story of Emma Hamilton, Lord Nelson's mistress. But Shappi Khorsandi's modern Emma is going to get the happy ending her namesake never did – and stick two fingers up at the men who dare to take advantage of young women while she's doing it.
As part of the Hachette Children's Books Bellatrix Collection (which is a collection about the untold, mistold or unheard stories of women in literature and life), they have released a brand new book, Kissing Emma, which tells the story of Emma Hamilton, Lord Nelson's mistress. Having read Kiran Milwood Hargrave's incredible The Deathless Girls, I had high hopes for Kissing Emma and I have to say, it was gripping and shocking at times!
The book grips you from the very opening line… and honestly, the hold over you doesn't really stop from there! Kissing Emma tells the story of Emma and her mum and how they've been living in fear of her dad… but have managed to escape his grip, but there are things which point to some underhand business. There's accusations of murder, betrayal and the internet getting involved, so Emma's life is truly spun on its head!
Emma and her mum, while they may have escaped from dad, have nowhere to go so they have to turn to Emma's nan. Emma's nan's house isn't the ideal place to stay – it's crowded, there's not much space and there's not much privacy. It's truly a struggle for them to scrape together money to try and escape from another space and have a home of their own. You really feel for them and want them to do well. It's not always easy to read and watch them struggle.
This book really pulled at my heartstrings and was a tough read at times. As a teacher, I was really rooting for Emma. I wanted the very best for her; I wanted her to keep succeeding; I wanted her not to be restricted by her surroundings (as we know that can very much be the case). Emma goes through the ringer. There's just one thing after another putting a stop to Emma making it as she wants to. There's a darkness about this book that made me wince – I would hate to be growing up in the current age of getting famous on insta/tik tok and the impact that has on someone.
For all that doom and gloom though, there's some absolute moments of light. There's moments of joy and hope. Emma is one of those really steely characters who never loses resolve. She's got an attitude of ambition and I really admired that about her. The ending made me so happy. Shappi did Emma absolute justice – she fought hard and kept going when things were tough and she got the ending she deserved!
Kissing Emma by Shappi Khorsandi is out now, published by Hachette Children's Group in paperback original, priced £7.99. Check out the rest of the blog tour below!
Thanks so much to Ed PR and Hachette Children's for sending me a review copy of this book!
S x