Between Sea and Sky – Nicola Penfold: a story of hope, how we should look after our planet and the joy of friendship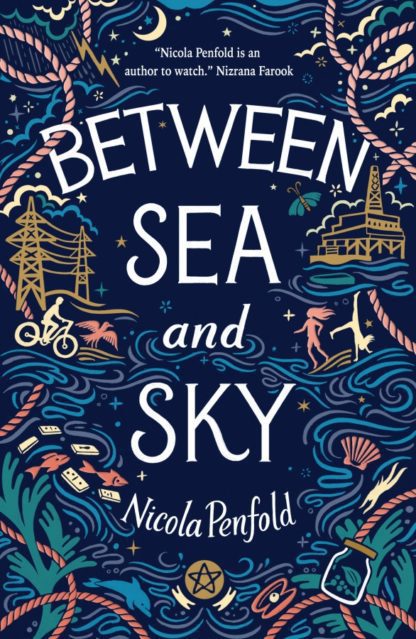 In a near future where a series of environmental disasters has left much of the country underwater, Pearl lives on a floating oyster farm with her father and younger sister, Clover. Following her mum's death several years earlier, Pearl refuses to set foot on land, believing her illness was caused by the poisons in the ground. Meanwhile, Clover dreams of school, friends and a normal life. Then Nat comes to spend the summer at the sea farm while his scientist mum conducts some experiments. Leaving behind the mainland, with its strict rules and regulations, he brings with him a secret. But when the sisters promise to keep his secret safe, little do they realize that they may be risking everything…
Between Sea and Sky is gorgeous book, which has a few of my Year 6s utterly taken with it – it is a gorgeous story that makes us really consider who we are, what is improtant to us and how what we are doing now has an impact on our amazing planet (not just for the near future for the distant future too).
This story is set in a post-climate change society where life is nothing as we can imagine – it's so much harder. The people of the lands have lived through many different eras: the Greedy Years, the Decline, the Floods and the Hungry Years. Famine, feast and everything in between – these people have been through it. Life as we know it is not as it is here. The government have even stronger powers than we have and they have stronger controls than we can imagine. These restrictions and their control are all that the people can think about – they dictate the normal people's lives.
Our main characters, Pearl, Nat and Clover, live in very different settings. We have a Nat, a landlubber, and Pearl and Clover, who live on an oyster farm in the bay. Learning about their different homelives and the places they live was wonderful. It would certainly make for some brilliant conversation.
As usual, there's one thing that changes everything for everyone. When their families are brought together, life as they know it changes forever. The girls must learn to work together; they must learn the power of teaching each other their ways and they must learn that there is friendship in even the most foreign of people. The girls have their own troubles and worries to overcome (as would anyone who moves somewhere new and is surrounded by unfamiliar people).
There's gorgeous thtmes of friendship, healing, looking after the world and hope in this. The world is something we need to look after and it's something that we are incredibly lucky to have. Our world, our friends and our lives are something we should cherish. It's our job to look after our planet. There is always hope to be had!
A massive thanks to Little Tiger for sending me a copy – it is already well loved in my classroom!
S x