The Crackledawn Dragon: a story of hope, trust and joy!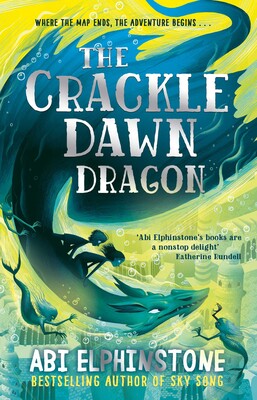 11-year-old Zebedee Bolt is on the run. Again. Only this time it's not the police who find him. It's an evil harpy called Morg. And when she hauls him into Crackledawn, an Unmapped kingdom that conjures sunlight for our world, Zeb discovers running away only gets you so far. When magic's involved, you've got to pick a side. And though Zeb vowed he wouldn't trust anyone ever again, he didn't expect to stumble aboard The Kerfuffle, an enchanted boat belonging to a girl called Oonie and her talking chameleon, Mrs Fickletint. Suddenly, Zeb finds himself on a voyage complete with silver whales, fire krakens and underwater palaces. Can he muster up enough trust in others, and in magic, to summon a dragon, find the Ember Scroll and defeat Morg once and for all?
I am a massive fan of Abi Elphinstone's writing and when a copy of her newest Everdark adventure fell through my post box, I had to dump off the rest of my TBR and read it… and from the get go I was hooked.
Crackledawn Dragon tells the story of Zebedee (Zeb). Zeb is a young man who feels like the world is against him. He's angry; he feels unloved and all he wants is to feel like he belongs somewhere. He wants better for himself than the world is giving him. At the start of the book, he runs away from the foster home he's currently in and ends up in an abandoned theatre. While he's there, he finds a piano and starts playing… and he's good, like really good. A familiar face hears his playing and finds him. They find it hard to get Zeb to trust him, and, when they leave to go collect something, Zeb is lured by an evil force (I think we all know who that evil force is). He ends up being pulled into the world of Crackledawn: a world full of magic, dragons, underground palaces and silver whales. Will Zeb learn that running away isn't always the option and that trust can be earned?
I love this world. The other books in this series have well and truly captured my imagination – I'd love to visit (you all know I love a bit of magic). There's just such wonder and magic in these worlds. There's so much joy and so much love. Abi builds the most amazing worlds and writes in the most immersive way that you feel you are there. It's hard to get away from that fact. Whether you're in the boat with Oonie or travelling over the magical lands, there's so much wonder and brilliance in this story.
The thing that hit me hardest in this story is actually the character of Zeb. I teach a boy who is very much like Zeb and at times it hit home hard. Zeb starts the story as this angry, untrusting and jaded young man who thought that materialistic things were what would make him happy, but as you go through the story he learns to trust and to love and to have hope that adults won't always let him down… and that really hit home. I think children will really love Zeb because (just like the other characters in this series) he's not perfect, he makes mistakes, but he learns that mistakes teach us things about ourselves and that the world is worth trusting.
Something else that really stuck with me about this book is how there's such subtle nods to the rest of the series. These books are a wonderful series, but can be read on their own. There's such tiny changes in the prologue and there's a wonderful familiar face that made me so so happy.
This book made me laugh, it made me cry and it made me feel hope. This book delivers a glorious message that there's always time to feel hope. That the world is always worth fighting for.
My Goodreads review:
What an incredible ending to this series! Dragons, friendships, evil and scrolls to be found. I have adored this whole adventure, but I think Zeb might be my favourite. Watching him turn from this angry, untrusting and jaded young man to the character he becomes brought me such joy. There's bits in this that made me cry, laugh and feel hope. Hope is such an important part of this story: we should never give up hope because it's the thing that shines the brightest. I love how these stories are all intertwined and how glorious the magic is. Abi Elphinstone is a wonder!!
A massive massive thank you to Simon and Schuster for sending me a copy of this book – it's currently in the hands of one of my children who is adoring it!
S x