Good morning!
Today I have the utter joy of featuring one of my brilliant friends on my blog to celebrate the release of his debut picture books. I am so so incredibly proud!!
Nen and the Lonely Fisherman: an absolute delight that filled my heart with joy and pride!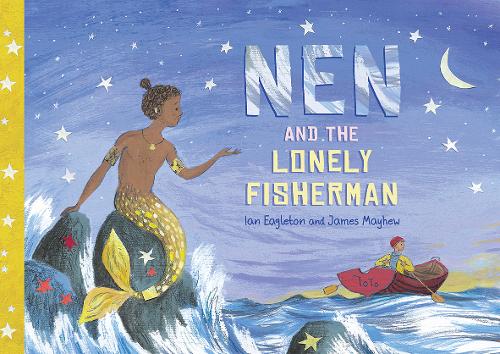 Far out to sea and deep below the whispering waves lives a merman called Nen. Nen spends his days exploring his underwater kingdom, but something is missing: his heart is empty. So, Nen ventures to the forbidden world above and it is here that he meets Ernest, a lonely fisherman. But can two people from different worlds be together and what will happen when a terrifying storm gathers? A lyrical, beautiful celebration of love, acceptance and faith, with a gentle message about how we treat our oceans, and each other.
The gorgeous Ian took some time to answer a few of my questions and I couldn't be prouder!
***
Tell us about Nen in no more than 10 words.
It's a story of hope and love!
What inspired you to write this book?
I was sat outside in the sunshine last year reading a poetry collection called Wain, which features LGBT+ retelling of Scottish myths and legends. I remembered my obsession as a child with all things mermaids and how fascinated I was by their mysterious worlds. As a kid, I always wanted to fall in love with a prince and was never sure why. I wrote this story for the little boy who never saw himself in fairy tales and for the teenager who was bullied and ostracised for being gay.
If you had to describe each of the characters in a couple of words, what would they be?
Well, Nen the merman is incredibly brave and head-strong. He risks everything in his pursuit of happiness and freedom and he reminds me of so many of our LGBTQ+ community who know there is more out there for them and risk everything to be their authentic, true and free selves.
Ernest is very much inspired by my husband. Calm, loyal, quiet, and creative. My husband has been my biggest cheer leader in my life, patiently encouraging me and putting up with all sorts of nonsense! Ernest is also incredibly brave – he sets out alone over the sea in search of magic and adventure and happiness.
What's the most fun bit of the writing process for you?
Getting to see James's illustrations. Even seeing the rough sketches was a thrilling experience – I couldn't believe that everything looked just how I had imagined it. James brings such magic and warmth to the story, while also adding darker and more dangerous elements to the storm. Getting to work with such a kind, creative legend has been a dream come true.
Was the writing and publishing journey what you expected?
No! It's an absolute rollercoaster of emotions! The biggest surprise is how much team work is involved. There's book designers, in our case Ness Wood, who create an amazing front cover. There's editors, proof readers, people working behind the scenes in promotion (a big shout-out to Catherine!) and of course Sam at Owlet Press who has been there every step of the way explaining the process, putting up with my sulks, and suggesting ways to improve and develop the story. It's a very strange journey that involves a huge amount of frustration, hard work, anxiety and sheer happiness and elation! 
What do you hope people take from your story?
Firstly, I hope people take away a sense of hope and the idea that our futures can be happier. I think picture books especially offer us models for change – they suggest ways the world could and should be. I hope children take away a sense of wonder and magic and are inspired to write their own modern, fresh fairy tales. And I hope it offers our readers the comfort that everyone deserves to live happily ever after.
We always love a recommendation here! Is there a book you can recommend for kids and teachers alike?
Oh my goodness, so many Steph! That's an evil question! I'm ashamed to say that I've only just got round to reading The Strangeworlds Travel Agency by LD Lapinski and it is EPIC! There's so much you could use as a teacher – creating 3D suitcases out of nets and designing 3D worlds inside them and then writing about them, for example. Most importantly though, it's just a rollicking, thrilling, magic adventure that manages to feel both classic and fresh and modern. 
***
Nen and the Lonely Fisherman is out TODAY! Please go support this amazing picture book. You will find an exclusive reading of Nen by Stephen Fry on the Owlet Press instagram – it is incredible; I recommend going to give it a listen! I utterly adore it and my mam does too (and she has brilliant taste!!).
You can check out the rest of the blog tour – just look how jam packed it is!
A massive thank you to Ian for taking the time to answer my questions! Happy publication to you!
S x