Morning guys!
Today is an exciting guest post on the blog today. You know I love giving time and space on my blog to authors to talk about their books and when I'm given the opportunity I will jump at it! Today, the amazing Angie Lake is popping onto my blog to talk about Mina's back story (this I always find fascinating!) I hope you enjoy the post! I know I did!
Mina Mistry Investigates
"Being at school is really boring when you already know what you're going to be. It's really, really boring when you're going to be something cool like a Private Investigator. Until then, Mina's going to practise for her future. By keeping notes on all her classmates, spying on suspicious teachers, noticing every little — Wait … Aren't school dinners a bit strange? Chicken nuggets? Again? On Pizza? Covered in chocolate? Nobody wants to live on lettuce and broccoli, but children are losing teeth over this! This needs investigating. This looks like a case for Mina Mistry."
***
I think I was working on book five of the Danny Dingle's Fantastic Finds series when Mina arrived on the scene. Danny is a carefree "pie in the sky" sort of kid (which is a kind way of saying that he's often oblivious to some pretty important stuff going on around him). I wanted to create a character who was calculating, incisive and a bit cynical to play Danny off against. Mina Snotbridge (aka Mina Mistry) was born.
She came together really quickly; I drew a lot of inspiration from my experiences touring UK schools. I wanted her to be a bit of an outsider, a bit awkward… so I thought I'd give her a mixed heritage and a bit of a misfit back story.
I liked the character so much that I thought she deserved her own series.
In Mina Mistry Investigates, we follow Mina in her quest to become a private investigator like her Dad (well, her Dad SAYS he works for the Ministry of Transport, but Mina knows that's just a cover story). On first sight Mina seems to be aloof and in control, but once you scratch the surface it becomes clear just how awkward Mina can be. Fortunately she's intelligent enough to outsource her social life to Holly Loafer: the boy band chasing, fashion loving, aspiring celebrity she calls "best friend".
I thought that having two best friends who are not even remotely interested in each other's lives carrying out secret investigations (unbeknown to one of them) seemed like a good setup for a comedy… I hope Mina's readers agree!
***
A massive thank you to Angie for taking time to write this blog post – I bet it can't be easy juggling everything, so I really appreciate it! Massive thank you to the publishers for inviting me onto the tour too!
You guys should all go check out Mina Mistry! If you fancy it, why not check out the rest of the blog tour? It's coming to the end now and there's some fabulous posts on the tour!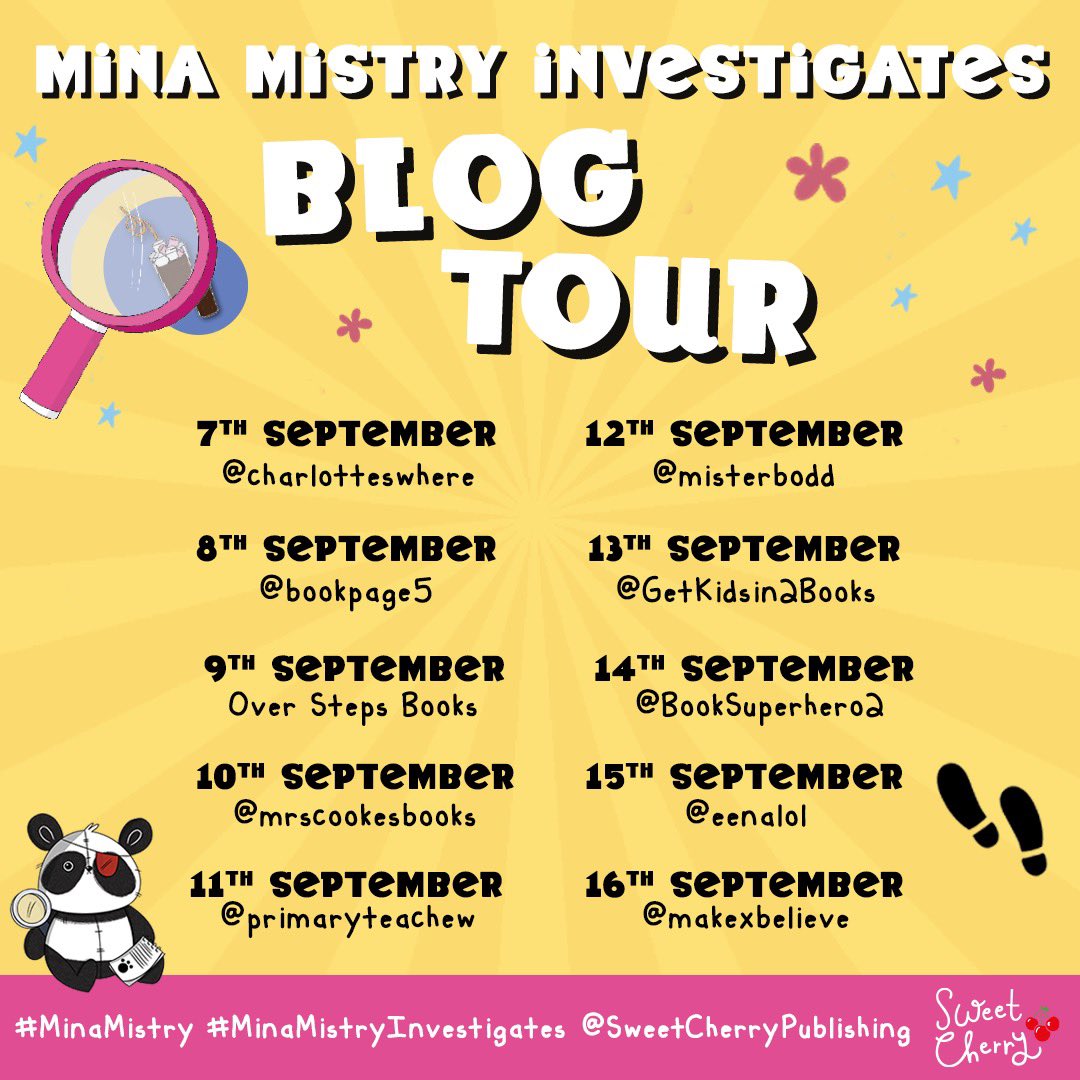 S x