Good morning! 
I hope you are all well and are reading some fantastic books! I thought I'd stop by my blog today and share some mini reviews for some brilliant MG books I've read recently because giving space to every book I read this year is a pledge I have made! 
Don't Tell Him I'm a Mermaid – Laura Kirkpatrick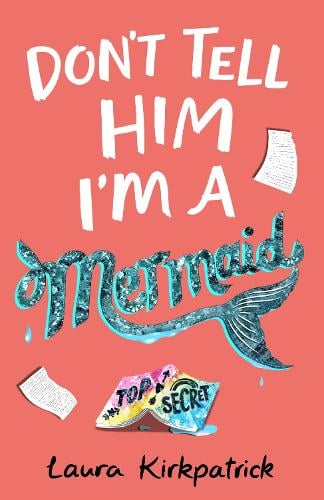 "It's not easy being half-mermaid. Just ask Molly Seabrook. She sprouts a fish tail whenever she's near water (NOT ideal when you live in a seaside town). She still has to deal with having the World's Most Embarrassing Family. And she has to lie to everyone about her identity. Even her best friend, Ada. Then the Waverley twins arrive in town. Molly's thrilled to discover that they're secret mermaids too! But Molly's mom forbids her from seeing them… Is something fishy going on?"
Listen, I know you all know I'm a Laura fan… but I had been VERY excited for this coming out since I read the first one last year and let me tell you, I PROPER loved this. These books are brilliant for like 9+. They're not OVERLY mermaid-y (I'm not a massive mermaid fan) but they're done so bloody well. This duet of books are properly funny, charming and full of fun. Laura just has a bloody wonderful natural knack for being funny without trying too hard. These books make me chuckle a lot and I loved being back in this world. Poor Molly with her turning-into-mermaid thing! She's got such a lush family and I loved the messages about friendship in this! That ending though definitely leaves for more books… GIVE ME MOREEEEE. 
Rick by Alex Gino
"Rick's never questioned much. He's tagged along with his best friend Jeff, even when Jeff's acted like a bully. He's let his Dad joke with him about girls, even though it makes him feel uncomfortable. Everyone around him seems to think that they've figured him out. But the truth is, Rick hasn't given his own identity much thought. Now Rick's in middle school, and it's a place of new possibilities. With the help of his new friends that he meets at the Rainbow Spectrum club, Rick embarks on a journey to find out who he truly is. An inspiring story about finding your place in the world."
This is the second Alex Gino book I've read (I also read George last year which I really enjoyed) so when I heard there was going to be another book, I knew I needed to get my hands on it. I read this book and it just struck a chord with me. I hate using the word 'important' about books cause it sounds so cheesy, but this really is. This has some incredible representation and it's got such an incredibly warm, safe and caring feel to it. There's talk about LGBTQIA+ from all sorts of sources: family, friends, teachers (this I REALLY bloody appreciated because teachers are OFTEN the bad guys in books!). This deals with some really deep things in a way that's gonna be comforting and accessible for kids around the world. Man. Just bloody yes. 
The Train to Impossible Places – P.G.Bell
"When Suzy hears a strange rattling noise in the middle of the night, she creeps downstairs to find a train roaring through her house. But this is no ordinary train. This is the magical delivery express for The Union of Impossible Places. Whisked onboard by a troll boy called Wilmot, Suzy's world is turned upside down when she's given the job of delivering a cursed package to the fearsome sorceress, Lady Crepuscula. Except when the mysterious package begs not to be delivered, Suzy discovers the fate of the Impossible Places might just be in her hands…"
I've owned this book for so long… so many of my kids have read it and LOVED it and I just have never got round to reading it… until I needed to read it for a teacher thing and MY GOD I regret waiting so long. This is a proper brilliant adventure! I thoroughly enjoyed it! A proper fun jaunt across some incredible lands with some brilliant characters! There's twists, turns, magical post and secrets galore! I would love to visit this world… although I'm not sure I would survive haha! I loved the science that was interspersed through this too! This would make a BRILLIANT readaloud! 
And there we go! 
Thanks for stopping by to these whistlestop reviews of these books. They need a place in your classrooms, on your TBRs and in your hearts! 
Let me know what you think and what you've been reading in the comments! I'd love to talk books with you all,
S x