Hello! Happy Bank holiday! 
Today I have the utter joy of being part of the blog tour for T.E.Carter's newest book: All We Could Have Been. I'm very lucky to be able to share an extract with you! You'll find chapter 4 below – there is a bit of swearing, but we're all adults around here!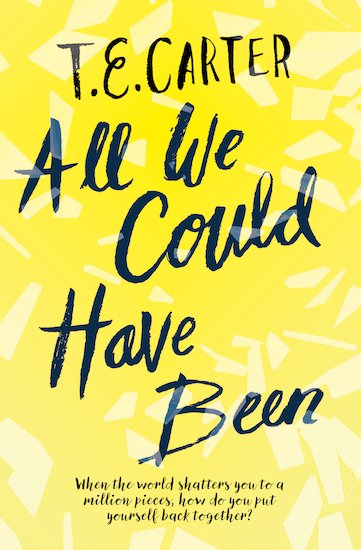 "Five years ago, Lexie walked home from school after her older brother failed to pick her up. When she entered her house, her brother sat calmly, waiting for the police to come arrest him for the heinous crime he had just committed.
Treated like a criminal herself, Lexie now moves from school to school hiding who she is—who she's related to. She struggles with loving her brother, the PTSD she now suffers from, and wanting to just live a normal life. But how can she be normal when she can't even figure out how to just live? 
This is a powerful look at the assumptions we make about people. Lexie's emotional journey to separate her brother's horrific act from herself is stunning and heartbreaking. This is Lexie's story and journey—not her brother's—and it will stay with you long after you turn the last page."
Chapter 4

Tuesdays are blue, which means my color-coding is less obvious to everyone, because jeans are blue. I like Tuesdays; they're when I feel most like a real person.  It turns out I have third lunch with Ryan, which makes this Tuesday even better. He invites me to sit with his friends, and one of the hardest parts of each year passes just like that. Only 161 days to go.

"I am so pissed at Hawthorne," a girl says as soon as she sits down at the lunch table. Dark hair, somewhat tall and thin, but still mostly average. Yet there's something about her that draws my attention. Something about how sure she is of herself.

Two girls follow right behind her, flanking her across the table from where Ryan and I are sitting, and they wait for her to speak. The first girl drops her tray and stabs a straw into her orange-juice carton.

"Seriously? Fucking Romeo and Juliet? How ridiculously cliché can we get?" she asks.
"Shakespeare's good for your portfolio," Ryan says.
She rolls her eyes. "I have plenty of Shakespeare in my portfolio. What do you even think I do all summer? God."
"Rory, Lexi," Ryan says, flicking a hand between me and the angry girl. "Lexi's new."
"Hi," Rory says. She drinks her whole carton of orange juice and crushes it. "Ryan, seriously. This sucks so bad."

One of the other girls opens a bag of chips, but she pauses, waiting to see what Rory does. The greasy spud hovers in front of her open mouth. It's not exactly fear. I can't explain it, but it's the kind of suspended animation that occurs when you can't decide if your friend's freak-out warrants putting your own basic needs, like hunger, on hold.

"It's not always like this," the other girl—the one sitting on Rory's right—tells me. She's prettier than Rory, but for some reason she fades beside her. "Drama's just a big deal."
"Oh yeah. Got it," I say, pretending to understand.
"Sorry," Rory mutters as she spears a french fry on her plastic fork. Chip Girl waits, and as soon as Rory puts the fry in her mouth, Chip Girl breathes a sigh of relief. Her stomach growls as if to confirm that hunger is, in fact, a bigger situation at the moment. The chip makes its final parabolic arc down her gullet.

"Look at it this way: You're probably guaranteed Juliet," Ryan says.
Rory shakes her head. "It's not that, and you know it. She's always going on and on about how 'theater makes a difference.' " I imagine that Rory's mocking lilt is nothing like how this Hawthorne person actually sounds, but everyone in our vicinity seems to be on board with it. "This was an opportunity. You know she's just capitulating."
"You need to lay off the SAT vocab," Chip Girl says.
Rory glares at her but doesn't respond. Instead, she turns back to Ryan, addressing me as well by accident. "All summer I was emailing her and she was totally into The Laramie Project or The Vagina Monologues. Something edgy. Something with a purpose. She swore she'd choose something that would matter. And we're doing fucking Romeo and Juliet?"
"I don't know," I offer, which I probably shouldn't. It's not my place, and I don't know the context. My head voice booms its countdown again, but I shush it and barrel on with my opinion, reason be damned. "It could work. I mean, prejudice, hate, judgment, assumptions. West Side Story tackles all the same key themes—"
Rory cuts me off. "West Side Story?"
"Yeah, I mean . . ." But the glare from the three girls across from me tells me to just keep my mouth shut.

"We don't do musicals," Ryan explains. "It's a whole different kind of theater."
"Sorry," I mumble, and go back to my lunch. The peas are fluorescent. I wonder if they're irradiated. That could be good. Everyone complains some more about Hawthorne, who I deduce is the teacher-director of the drama club, but I stop listening. Lunch is only twenty-seven minutes. Twenty-seven minutes of 161 days and it's all over. I can survive this. They're so wrapped up in the play that they don't care about me or what I'm carrying. They won't even notice me as long as I don't talk about musicals.

"Hey, I'll walk you to class," Ryan says when the first bell rings to wrap up lunch.
Massive thank you to Hashtag Reads for inviting me to be part of this blog tour! This extract is sure to get people talking. Go treat yourself to this book now! And while you're at it: check out the rest of the blog tour!
S x