A Pocketful of Stars: magical, mysterious and memorable.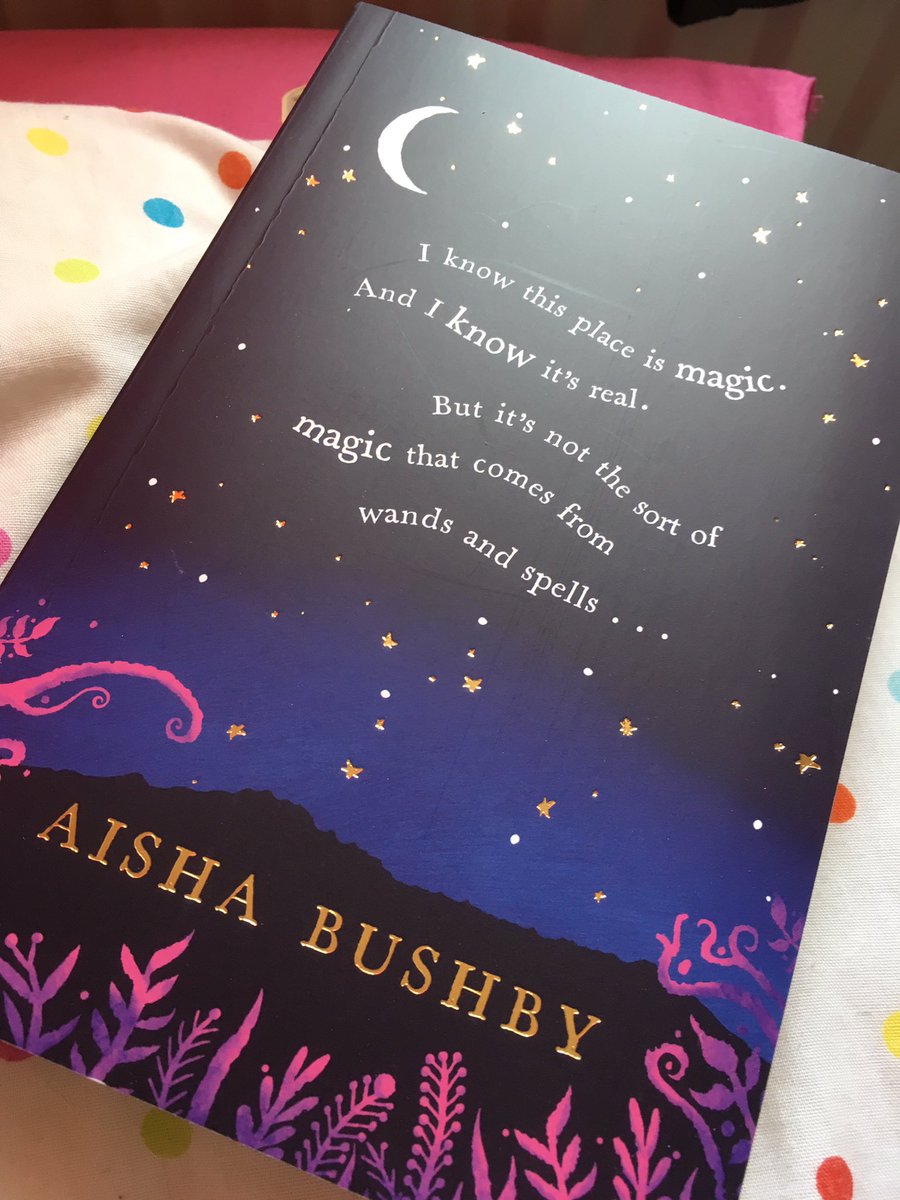 (proof cover – see finished cover at the bottom)
"When I next open my eyes, I'm back… in front of the house again. It's night time. The stars wave hello, like they've been expecting me. The door of the house, Mum's house, is wide open, like it expects me too. This time, I go inside…
Safiya and her mum have never seen eye to eye. Her mum doesn't understand Safiya's love of gaming and Safiya doesn't think they have anything in common. As Safiya struggles to fit in at school she wonders if her mum wishes she was more like her confident best friend Elle. But then her mum falls into a coma and, when Safiya waits by her bedside, she finds herself in a strange alternative world that looks a bit like one of her games. And there's a rebellious teenage girl, with a secret, who looks suspiciously familiar…"
I'd like to preface this review by saying that this book has been one of my most anticipated books of 2019 and that my giddy… it BROKE ME. SO MUCH. 
OKAY. Let's go. I'm sorry if my thoughts are all jumbled in this review… just bear with me. 
A Pocketful of Stars tells the wonderful story of Safiya, a young girl who is forever battling against her mam and her mam's opinions on Saf's hobbies. Saf is a gamer and her mam doesn't necessarily see that as a "wise" way to spend time. Saf lives with her dad most of the time, but she sees her mam on a weekend. When something happens to Saf's mam, Saf has to battle to try to save her mam: someone she has more in common than she realises. 
Picking up A Pocketful of Stars was like being transported to this incredibly magic and mystical world. A world where magic is possible; where you can fight for something you need and want desperately; one where that fight matters. There's a real life setting and there's this incredible setting of this alternative world. The setting descriptions immerse you entirely in whichever setting Saf is in. Aisha has a GORGEOUS writing style. I didn't want to stop reading (I was GUTTED when I finished the book… because I needed more!) When Saf learns and understands the link between the two, the magic really kicks off. You see the world through a desperate young lady trying to fix something that may be unfixable.
Saf is a brilliant main character. I loved the fact she was a gamer – it's so important that we show that girls can be gamers. She's flawed, brave, clever, resourceful, proud, honest and scared. She makes mistakes. She says things she regrets. She's warm and kind. She doesn't pretend to be something she's not. I think a lot of kids (and adults) are going to like Saf. There's going to be girls who see a bit of themselves in Saf – and we all know that seeing yourself in a character is so important. She's proud of who she is, and as you go through the story she becomes more proud of where she's come from. Learning about her family, in particular her mother, shows Saf that she's more similar to her mother than she thought. 
I loved that this book dealt with a family dynamic in a way which is kind of flipped on the head. Usually, you see that children live with mam and go and visit dad. Here, however, you have Saf lives with her dad and goes and visits mam. It might seem like a small detail, but for me, I really liked it. Family is a massively important theme in this book – both the family you have now and the family that came before you. There's a lot of discovery in this book. Saf learns about herself, her parents and her extended family throughout this book: in more ways than one. 
This book is BRILLIANT for kids 9+. Teenagers will love this too. It's a bit more grown up than typical 9-11 books. I think (and this is a total compliment) this is one of those books that we discover privately. It gives me slight A Monster Calls vibes – another book I PROPER adore. 
This book is like a deliciously written scavanger hunt. We all love going on an adventure and this book scratches that itch satisfyingly so. You go on a scavenger hunt in a very unconventional way with Saf. I don't want to spoil too much because it's one of the things that was just incredible about this book – but the magic of this book (we all know I love a bit of magic in my life) just made my heart complete. The way in which Saf tries to go about saving her mam made my heart just leap with joy.
Along with joy however, there was a LOT of tears. I need to warn you guys of that.
Not that we judge books by their covers (ahem) but LOOK AT THAT MAN. It is just incredible. There's going to be some real shelf appeal with this. I adore it.
My Goodreads review:
God. This book. BROKE MY SOUL. Guys, it's bloody brilliant. It's full of hope, magic, wonder, intrigue and love. There's so much love in this book: between friends, with family and for yourself and your own strength. I loved Saf's story and I can't wait for you all to discover it.
OK, I'm going to lie down now and have another little cry about this book. Because it's brilliant.
Have you read A Pocketful of Stars?
How do you feel about a scavenger hunt?
DO YOU LOVE THAT COVER THO?
Talk to me! A massive thank you to the humans of Egmont for sending me a proof copy of A Pocketful of Stars. Year 5 are going to DIE.
S x