The Boy Who Steals Houses: stealing homes and hearts without a second thought!
(this is the gorgeous proof copy that the brilliant publishers sent me! For the final cover, check the bottom of this review!)
"Can two broken boys find their perfect home?
Sam is only fifteen but he and his autistic older brother, Avery, have been abandoned by every relative he's ever known. Now Sam's trying to build a new life for them. He survives by breaking into empty houses when their owners are away, until one day he's caught out when a family returns home. To his amazement this large, chaotic family takes him under their wing – each teenager assuming Sam is a friend of another sibling. Sam finds himself inextricably caught up in their life, and falling for the beautiful Moxie. 
But Sam has a secret, and his past is about to catch up with him."
When I heard that the brilliant C.G.Drews (who we all more famously know as @PaperFury) was writing another book… I needed to get my hands on it. I had seen the cover and heard bits and bobs about it, but I went into it relatively blind and my word. It blew me away. 
Now, we all know I'm quite an emotional reader (I know, I know, SHOCKER) and having read Cait's first book A Thousand Perfect Notes, I was MORE than prepared for a book that would RIP OUT MY SOUL because that's exactly what ATPN did to me. (If you haven't managed to read it yet, you really really should… it is just exceptional). What you get with The Boy Who Steals Houses is sheer brilliance. It's sharp corners and rounded edges; it's light and dark; it's love and hatred; it's yellow flowers on Summer's days; it's bruises and smiles. 
The Boy Who Steals Houses is about young Sam – a very troubled and brilliantly flawed young man, who "steals" houses. He doesn't steal the belongings, more the feeling of owning a house. He goes into houses to sleep in the beds. He goes into the houses to have somewhere comfortable for the night. He has no interest in stealing the expensive things in the house… he just wants somewhere to belong. For so long he hasn't felt like he belonged, and that's what he is DESPERATELY seeking. Sam also has to look after his older, autistic brother Avery. Avery, who constantly causes Sam to worry, is always getting himself into scrapes and situations that Sam feels he needs to save him from. You see through the book the scale of the problem when Sam does something pretty bad to show much he's willing to protect his brother. Sam does some really bad things, but he thinks it's because he's doing it for the right reasons – he wants to protect his brother. It's his job to protect his brother. There's definite anger issues going on with Sam – he has a violent streak. I wanted to hug Sam after chapter 1 and I continued to want to hug him throughout the whole book. 
So you have this brilliantly complex and endearing main character, who is just trying to find himself somewhere to stay, and then BAM, throw in a house he thinks is empty… which isn't. (When I read this bit, I GENUINELY gasped). He meets an incredible family – the De Laineys – and things start to change. It's a warm, noisy, chaotic, welcoming family unit, who initially don't know of Sam's circumstances. He's welcomed as a "friend" of one of the boys. You get an INSTANT warmth from the De Laineys. They're this wonderfully charming family, who of course have their problems. I loved the De Laineys… like A LOT. I don't want to spoil too much about the De Laineys… but guys, I just love them. There's so many wonderful scenes between Sam and the different family members that I just glowed. There's a beautiful scene at the end of the book with Sam and Mr De Lainey that just broke me. I think everyone needs a Mr De Lainey in their life – someone who will accept you for who you are and who will stick by you, even when you do some TERRIBLE things. 
Of course, this is a story and it isn't ALL PEACHES AND RAINBOWS (although there is a VERY funny scene with glitter that made me chuckle…), there's some HORRID villains in this book. There's of course Sam and Avery's abusive father, who doesn't deserve ANY space in this review. Then there's their Auntie Karen, who they end up living with when Dad ditches them. She's JUST as bad as their dad. There's Viv – oh Viv. You did a TERRIBLE thing. There's a moment where something HAPPENS and I was heartbroken for Sam. 
(I realise this review so far has just talked about characters, but guys… I just think it's something Cait writes so so brilliantly. That's not to take anything from the plot, because I think it's a wonderful story, I just need to talk about characters because I love them OK?)
There's a constant battle in Sam's head between wanting to be invisible and wanting to be seen. He's hiding from the police and worries that if he is found, he'll be taken away and then his brother will have no one to look after him. I feel like we've all been there (wanting to be invisible and be seen) in our lives, so it makes Sam relatable. 
The scenes with the De Laineys are some of my favourites in the book. There's so much colour, so much life, so much food that it's a barrage on the senses, but for Sam it's a lovely comparison between the cold, empty, grey life that he lives every night. I loved their influence on his life. There's so much love, laughter and forgiveness with the De Laineys that you can't NOT love them. 
This book made me cry. It made me laugh. It made me want to shout. It's SO SO incredibly brilliant. I can't wait to see what C.G.Drews writes next.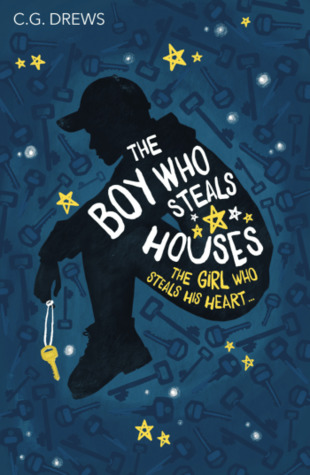 This is the finished cover and I LOVE it so much. Keys play a significant part of this story, as does the colour yellow, so I really appreciated making those links once I'd read it. 
My goodreads review:
Deary me. Sam – what a pickle you find yourself in. This book is just magnificent. I am a crying mess. This book is hard edges and summers days. It's light and dark. It's love and hate. It's everything I needed. The thing that really makes this book is it's characters. I just adored every single thing. 
A massive massive thank you to Hachette Kids for sending me a copy for review. Also a massive thank you to Cait for allowing me to live DM as I read along with the story – I HAD to talk to someone about this book! 
Check out a Q&A Cait did with herself on her website here: Q&A
Check out my review of A Thousand Perfect Notes here: BOOKBLOG: CG Drews
Thanks for stopping by! Speak to you all soon, I'm off to console myself and have some hot chocolate for my heart!
S x