Today's post is coming to you from the boyband tour bus in Japan as part of the Slay blog tour. If you don't know the world of Slay yet, then you are 100% missing out. Check out my review of the first book in this series here!
Slay on Tour: slaying in all the VERY BEST ways!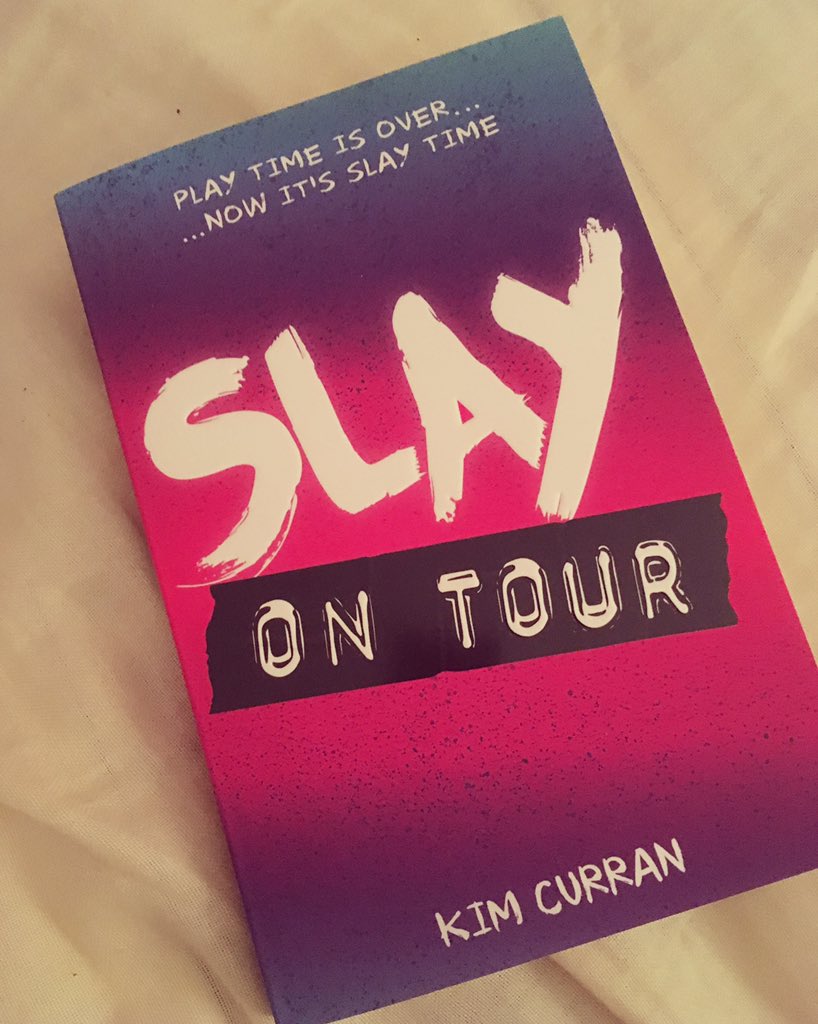 "SLAY are BACK…and this time they're headed to Tokyo to track down another hell-raising demon. When they're invited on tour with a super-cool band of holographic girls, SLAY find themselves whisked off around Japan – until strange things start happening on their tour train. Suddenly it seems it's not just SLAY's fans following their every move…"
Slay on Tour sees the boys of Slay (a demon fighting boy band, obviously) fighting demons in Japan! Having read the first book and LOVING IT, I needed this second book in my life so much. This series is SUCH fun and it's so incredible to read a book with such personality. The characters, the settings, the friendship and the family explored in these books makes me so happy. 29 year old me loves these books and I know that 15 year old me would have too: boybands and demon fighting… what more do we need?
Slay on Tour sees the boys in Japan, having been given the opportunity to tour alongside a new and incredibly revolutionary Japanese band. I always knew there was something up with the band and their people – a band of holographic girls who are "perfect". Yeah, cause that's normal… but I loved it. There was a bit of the feminist in me going "WE DON'T NEED TO BE PERFECT TO DESERVE TO BE IN A BAND". 
Obviously, in the midst of all of this touring, the boys are still fighting demons. The demon slayers (I bloody love how descriptive the word slayers is!) have to fight some pretty dark and deceptive demons in this second installment. A demon who steals souls? Yeah. No thanks actually! There's even the reappearance of an old "friend". 
A massive shout out to the folklore in this book too. I loved the little nuggets of Japanese folklore information thrown in. (You all know I'm a PROPER sucker for a bit of a mythological story, so this made my heart sing!) Learning about other cultures and the stories from them is just mint – so to see this thrown into the book was another massive tick!
You get the fun of the demon fighting as well as those brilliant characters who we met and loved in book 1. The boys are just lush. I like each of them for very different reasons. I'd love them to be a real band, so I could join them (I don't know that I'd be a great demon fighter like!) Not only that, but there is a lovely exploration of something which happens in book 1. This something (I don't wanna share too much cause spoilers!) happens to have a massive impact on the dynamic of the band, with ever trusty Milly having to come to the rescue. I really love Milly. She's sassy, brave and bold: she has to be. She's thrust into this life of being in one of the biggest boybands in the world. And because she's a badass, she takes it ALL in her stride. 
I loved this book. I may have even loved it more than book 1! I know, I know. I have my fingers crossed that there MAY be a third book. PLEASE. 
I even have an incredible exclusive quote from the brilliant Kim herself on why boy bands, fandoms and blurred lines! It sums up the Slay books so brilliantly!
"When I was growing up in the 90s, I had properly drunk the patriarchal kool aid. Without knowing why exactly, I put all things 'girlie' into a mental box labelled shameful. It's internalised the misogyny that placed things that boys love above stuff that girls love. And, to my great sadness, that included boy bands. I was into Star Wars and The Teenage Ninja Turtles, X-Men comic books and Grunge rock music – all the geeky-cool stuff that defined a lot of 'boy culture'. But, as I got older and began to examine my choices, I discovered there was a world of amazing 'girl culture' I'd been missing out on. As an adult, I loved it all. Twilight, Sailor Moon, High School Musical. And yes, One Direction! Now, I'm on a mission to see that all the things that teen girls love are given the same respect and the same value as the stuff boys love. And that when it comes to entertainment, gender should play no part in it. When writing Slay and Slay on Tour I consciously blurred all the lines between 'girl' stuff and 'boy' stuff to create something that's just fun – which transcended gender."
So please! Go out and buy these books if you're looking for something EXCELLENT, FUN and PROPER GREAT. 
Have you read Slay?
Would you make it as a demon fighter?
Do you think I'd make it as a demon slayer?
Check out the rest of the stops on the blog tour… it was a proper honour to kick it off! Thanks so much to the brilliant humans of Usborne for asking me to kick off the tour! 
Let's get talking about #SlayonTour on twitter! These books deserve so much love! 
S x