Happy bank holiday everyone! Last one of the year! 
Today I'm taking on the Bank Holiday Tag, made up by my lovely friend Cora. Check out her original post here. I've actually done this post before, back in April – if you'd like to see my answers and compare them, you'll find that post here. I'm going to try and complete this based on the books I've read so far in 2018!
Have a lie in.
Which book could you lounge in bed with all morning?
Snowglobe – Amy Wilson
This is a lush story with magic and lush friends. It's one I'm definitely going to reread!
Oh my goodness, it's actually sunny outside!
A book that makes you feel optimistic.
Simon vs the Homo Sapiens Agenda – Becky Albertalli
Simon and Blue are EVERYTHING. But also, Simon's parents and his sister.
Spend some time outdoors.
A book that reminds you of nature.
When The Mountains Roared – Jess Butterworth
I've never been transported to the mountains in India surrounded by big cats before this book and it was incredible.
Make some punch.
A book that you find difficult to classify into one genre.
The Secret Deep – Lindsay Galvin
This book is so intricate and brilliantly written that it would happily sit in many different places in a bookworm's world.
Pass some food around.
A book you want to share with everyone.
The Wild Robot – Peter Brown
I ADORE this book with all that I am. I have read the sequel now too and I just… it is such a love. Roz is an excellent main character. (This could also be the answer to the nature question!)
Light the BBQ.
A book that took a while to get going.
The Smoke Thieves – Sally Green
It's a shame this book takes like 60-70% to get going, because once it's going I quite liked it! 
Failed BBQ.
A book that ultimately disappointed you.
All of this is True – Lygia Day Penaflor
Oh friends. 
It's raining. Of course.
A book to curl up with when it's raining outside.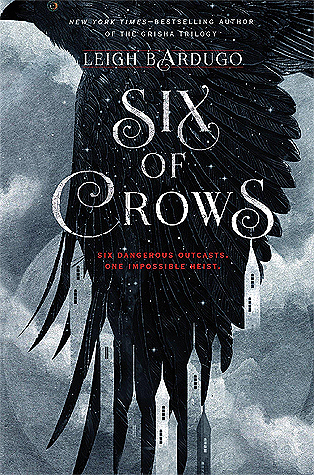 Six of Crows – Leigh Bardugo
I can't wait to reread this book. I love Kaz Brekker so much. This is the perfect rainy day read because let's be real, it's always raining in Ketterdam.
Let's just eat the chocolate.
A book that's super sweet.
Theatrical – Maggie Harcourt
I love Maggie's books. They always just make me smile and that's what you need sometimes!
There we go! Join in the fun, and do the tag yourself! Enjoy your bank holiday everyone!
S x