My lovely friend Cora (over at TeaPartyPrincess) created this tag, centred around things we usually do around Bank Holiday!
Have a lie in: which book could you lounge in bed with all morning?
The Scarecrow Queen by Melinda Salisbury. It just is magnificent. I love Twylla's progression. If I could be left in bed wtih all 3 of the series, that would be magnificent.
Oh my goodness, it's so sunny outside: which book makes you feel optimistic?
Wing Jones by Katherine Webber. Wing Jones is such an incredible young woman, she actually made me want to go running. I think I need to get Wing out again to get my motivation back!
Spend some time outdoors: which book that reminds you of nature?
The Explorer – Katherine Rundell is written so beautifully that it is definitely one that makes me feel like I'm outside, in the rainforest with the kids.
Make some punch.: which book do you find difficult to classify into one genre?
Out of the Blue – Sophie Cameron. It's contemporary, fantasy, magical realism… all those brilliant things in one! 
Pass some food around: which book you want to share with everyone?
Perijee and Me – Ross Montgomery. It's one of the first books I shared with the kids at school and we all fell in love with it. I had readit during the summer hoidays and knew I needed to use it as a class reader.
Light the BBQ: which book took a while to get going?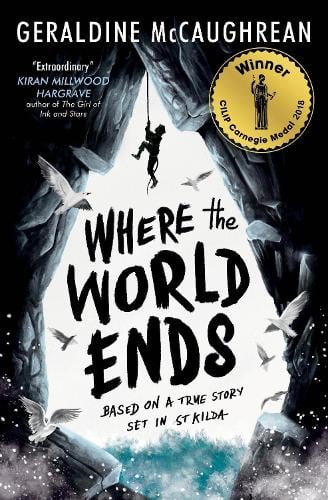 Where the World Ends – Geraldine McCaughrean. I'm so glad I stuck with this book, it's dark and grim. It's properly good though. 
Failed BBQ: which book ultimately disappointed you?
Caraval by Stephanie Garber. I had SUCH HIGH EXPECTATIONS for this book and it just didn't spark my imagination like I was hoping. (I know A LOT OF PEOPLE love this book though)
It's raining. Of course: which book would you curl up with when it's raining outside?
The Storm Keeper's Island – Catherine Doyle. Capturing the island's weather in candles and using their power… man, this book is special.
Let's just eat the chocolate: which book issuper sweet?
A Quiet Kind of Thunder – Sara Barnard. Guys, I have such a love for this book it's unreal. I miss Steffi and Rhys. I hope they make a reappearance in my life some day. Just one of the loveliest love stories ever. 
And there you have it! My bank holiday tag books! If you fancy doing this tag, please feel free!